Water break repair restores water to Kanawha Valley
More stories from Britanie Morgan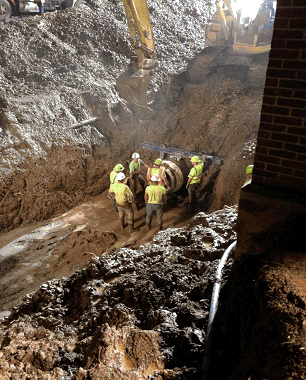 West Virginia American Water has restored service to all customers in its Kanawha Valley system. Repairs were made to a 36-inch water transmission main in Dunbar. A break in water line was first detected on June 23.
The break was immediately discovered as soon as it occurred because thousands of gallons per minute were rushing over the hillside from where the pipe was located beside the relay station in Dunbar.
Repairs were completed Tuesday. Those repairs incorporated a different engineering solution than the repairs made last week according to West Virginia American Water External Affairs Manager Laura Jordan. The final repairs required extensive excavating, constructing a concrete base with I-beams for support on either side of the original main, capping the pipe on both ends rather than inserting a closed valve in the middle like the first two repairs, and then welding steel support structures to brace against the caps and restrain the 120,000 pounds of force that they endure under normal operations.
As of 8 a.m. Tuesdat, all primary water storage tank levels had returned to normal operating levels. West Virginia American Water maintained water service to many customers during this event through existing water storage in the system combined with redirecting water from other parts of the system to the area impacted by the shutdown.
The company estimates that less than 3,000 customers experienced water outages of any length as a result of these most recent repairs, which began early Monday afternoon.
"The past week has been difficult for our customers and our team, and having to make extensive repairs multiple times is not what we want for our customers," said West Virginia American Water president Jeff McIntyre. "We apologize for continued inconvenience to customers impacted by this repair and remain committed to restoring full water service to our customers as quickly as possible so they can resume their normal lives as we approach the holiday weekend."
West Virginia American Water also worked with county offices of emergency services, the WV Department of Homeland Security and Emergency Management, the WV Department of Highways and the WV National Guard to offer water distribution sites for impacted customers.
Over the past five years, West Virginia American Water has more than doubled its investment in water main replacement.
"Each year, we invest approximately $40 million to upgrade and restore aging water infrastructure, which in parts of our region is more than 100 years old," Jordan said. "This 36-inch transmission main was installed in 1971 and 1972 and is still well within its intended useful life. West Virginia American Water will continue its investment in upgrading the system in order to help prevent future problems."
Results of water quality testing have confirmed that water quality meets drinking water standards. Therefore, the precautionary boil water advisory issued for any customers who had experienced no water or very low water pressure on Monday or Tuesday has now been lifted. Water distribution sites will be discontinued.
Britanie Morgan can be contacted at [email protected]
Leave a Comment
Your donation will help continue the work of independent student journalism at Marshall University. If you benefit from The Parthenon's free content, please consider making a donation.