#WeekendWalkoff: NBA Playoff Preview
More stories from Shannon Stowers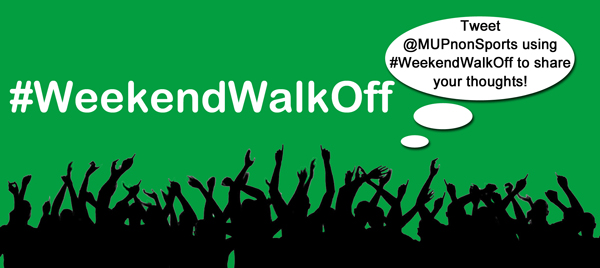 #WeekendWalkOff is a weekly column where sports and pop culture collide in a look at the one of that week's biggest sports topics.
Wednesday night marked the final the day of the NBA season before the playoffs start Saturday. 
Among the teams who slipped in: the Boston Celtics, New Orleans Pelicans and Brooklyn Nets. On the outside looking in: Oklahoma City Thunder.
The aforementioned Celtics, the No.7 seed, will face LeBron James, Kyrie Irving and the Cleveland Cavaliers in the first round. The Celtics overachieved to begin with this season, so the fact they even made the playoffs should seem like a success. If they want to get past the first round, however, they're going to have to hope Daniel Stern and Dan Aykroyd kidnap James like they did Damon Wayans in "Celtic Pride."
If the No.8 seed Brooklyn Nets find a way to beat the Atlanta Hawks, which is possible with the Hawks going without Thabo Sefolosha, who suffered a season-ending leg injury. If the Nets do win though, they'll have Jay-Z saying "Brooklyn, we on the map" again.
One of the most interesting first round matchups in the east is the Toronto Raptors-Washington Wizards series. The Wizards will mostly rely on John Wall while the Raptors will be powered by players like DeMar DeRozan, Huntington's own Patrick Patterson and the 6 God himself – Aubrey Graham. Okay, Drake may not be a player, but you can bet he'll get just as much airtime sitting courtside as any player Toronto has.
In the west, Steph Curry and the Golden State Warriors have put together one of the all-time great seasons in NBA history. The fresh-faced Curry, a serious contender for the MVP trophy, has led an assault on the league that Baby Face Nelson would be proud of. Curry and the Warriors aren't robbers or murders, but don't fool yourself into thinking the Splash Brothers are not trained assassins on the hardwood.
Possibly the best first round matchup in the west is the series featuring the Memphis Grizzlies and Portland Trailblazers. The Grizzlies will need to hope their recent playoff failures (five first round exits in their last seven appearances) change. Maybe minority owner Justin Timberlake can share some of the mojo that has kept him successful for all of these years, and then, for once, it will be another team's turn to cry him a river.
My pick: Warriors over Cavaliers
Shannon Stowers can be contacted at [email protected].
Leave a Comment
Your donation will help continue the work of independent student journalism at Marshall University. If you benefit from The Parthenon's free content, please consider making a donation.