#WeekendWalkoff: Harvey's return raises questions
More stories from Shannon Stowers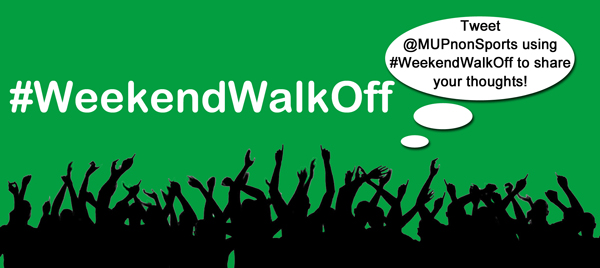 #WeekendWalkOff is a weekly column where sports and pop culture collide in a look at the one of that week's biggest sports topics.
In case you missed it, the MLB season began this week and the natural order of Earth was restored.
The New York Mets' ace Matt Harvey made his return from Tommy John surgery Thursday going six innings, striking out nine batters in the process. The start came more than a year after Harvey had the surgery and his start, along with others, has rekindled the debate on whether Tommy John surgery is good for baseball and its players.
The debate stems from the rising number of players who resort to the surgery each year. The number of players who have taken the surgery route went 0 to 100 real quick over the years, from 11 in 2010 to 30 players the next season.
One of those players who chose to have the reconstructive surgery on his elbow was John Lackey who was with the Boston Red Sox at the time. After sitting out a very controversial year (let's just say he liked his chicken fried and cold beer on any night that ended in "y"), he rebounded in 2013 with one of the better seasons of his career that ended with a World Series ring.
On the other hand, there's also AJ Burnett, who had a very solid career 12 years after having the surgery.
For every success story regarding the surgery, there are players like Jeremy Hefner who has had to have a second surgery, costing him years of his professional career when he should be in his prime.
Then there are players are entering their prime with at least one Tommy John surgery under their belt. Players like Jose Fernandez, who had his first Tommy John at 22 will (hopefully) play out the long career he has ahead of him more similar to Burnett than Hefner, despite an ESPN study that says more than 50 percent  of players who have the surgery end up back on the disabled list with an elbow problem. As Harry Callahan would say, do you feel luck? Well, do ya, Fernandez?
There are possible ways for teams to avoid the trend of young pitchers having major surgeries: extended rosters. Obviously this would have to be implemented by MLB, but six-man rotations would ease the load on all pitchers. It would also prevent teams from becoming like the Bad News Braves, who lead the league in players who have had Tommy John surgery.
As other players make their returns from surgery or go on the disabled list because of it, the debate will rage on. Either way, the good news is that we're talking about baseball again. As Roy Hobbs said, "God, I just love baseball."
 Shannon Stowers can be contacted at [email protected]