Herd sweep Mean Green in rain-shortened series
"Winners always adjust." -Head coach Shonda Stanton
More stories from Malcolm Walton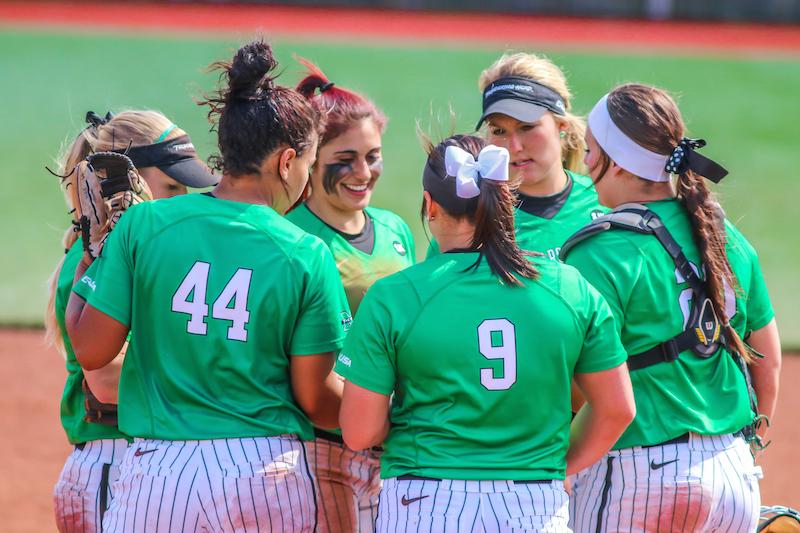 Marshall University's softball team (23-10, 6-5) won two games Saturday against the University of North Texas (14-20, 6-8) in what was supposed to be a three-game series.
The third game was declared a no contest due to travel regulations.
The first match of the series began Friday, but it was postponed midway through due to heavy rain showers.
Despite the delay, the Herd held on to its 1-0 lead and secured the win when it resumed play Saturday morning.
Marshall head coach Shonda Stanton said the rain delay was a non-factor for the team.
"We're used to it," Stanton said. "Winners always adjust. When you're a softball program, your game time may say one o'clock, but then you get out there and you're playing until 10 or 11 o'clock at night sometimes. And that's fine because winners adjust. As a softball athlete and a softball coach, this is something we're used to and something that really should never affect you."
While only one run was scored in the entire first game, the Herd put up 16 runs in the second game to defeat the Mean Green 16-8.
Freshman Elicia D'Orazio, infielder for the Herd, had five runs batted in and one run in the second game.
D'Orazio said once the team found its hitting rhythm in the second match, it never looked back.
"We started off a little slow," D'Orazio said. "But we pulled together, and we got the hits we needed to come away with the win. I'm proud of the way we performed."
Stanton said while sweeping a conference opponent is always a plus, the team is already focused on post-season play. The C-USA tournament is set to take place May 7-9 at Florida International University's Felsberg Field in Miami, Florida.
"It's a slow grind," Stanton said. "It's a journey, and our kids are stronger enough for it. And we know that we are going to fight and battle for the best spot that we can get to get back to Miami. And once you get there, you have to be great for three days in May. This ball club has a shot to win it. We just have to find a way to get there and secure a seed. And I'm confident in this group, but it's going to be a grind just to get there."
Malcolm Walton can be contacted at [email protected]
Leave a Comment