#WeekendWalkoff: Tourney Talk Pt.I
In a weekend filled with wire-to-wire nailbiters most brackets fell apart faster than Zayn Malik's departure from One Direction.
More stories from Shannon Stowers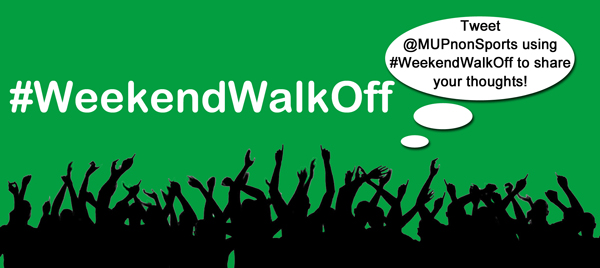 #WeekendWalkOff is a weekly column where sports and pop culture collide in a look at the one of that week's biggest sports topics.
If you listen closely, you can still hear the dying breathes of brackets across the weekend.
In a weekend filled with wire-to-wire nailbiters, most brackets fell apart faster than Zayn Malik's departure from One Direction.
For starter's, University of California Los Angeles sticking around for the second weekend after many experts ripped the committee for even including them in field must have the Bruins feeling like Toby Keith in the "How Do You Like Me Now?" music video.
There was University of Alabama at Birmingham, the lone representative of C-USA, channeling its inner Young Jeezy as it put on for its city, er, conference as it knocked off an Iowa State University team that was becoming a trendy final four pick heading into the tournament.
Speaking of Big 12 teams who were upset in the first round, Georgia State University's win over Baylor University provided one of the better storylines of the tournament. GSU head coach Ron Hunter's charisma, along with his tearful post-game interview with son and player RJ Hunter, was the feel-good story of the weekend.
On the opposite of end of that spectrum is the University of Kentucky-West Virginia University matchup in the first round of Sweet 16 games Thursday night. The history between coaches says WVU owns the edge while on-court performance this season (obviously) says the Wildcats win, but that hasn't stopped fans from both sides for engaging in a verbal sparring match.
On that note, why isn't an annual Hatfields-McCoy's Showdown a thing between those two schools? That would be fun.
At the time of this writing, two teams have already secured their spots in the Elite Eight: Wisconsin and Notre Dame.
The Badgers pulled away from UNC down the stretch to reach the Elite Eight for the second straight year. Notre Dame cruised against Wichita State, finally reaching Elite Eight for the first time since 1979.
Congratulations Notre Dame, you finally managed to somewhat live up to expectations and not become the next Amanda Bynes.
While I'm handing out congratulations: Big Blue Nation, take a deep breathe, it looks like the 'Cats are going to (easily) take care of the Mountaineers.
By now, you'll know the winner of the University of Arizona-Xavier University matchup and next Friday we'll catch up on the rest of our Super Sweet 16's.
Shannon Stowers can be contacted at [email protected]