Player of the week 
Hang on for a minute...we're trying to find some more stories you might like.
More stories from Bradley Heltzel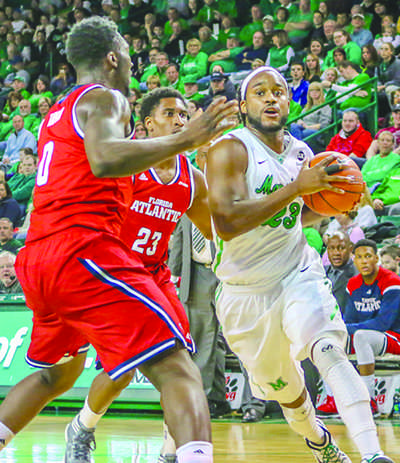 Justin Edmonds scored a career-high 27 points on 9-11 field goals Saturday leading the Herd to victory over Florida Atlantic University in its final home game of the season.
Edmonds, who went 7-9 from the free throw line, was aggressive attacking the basket throughout the game. He converted on both three-point attempts.
Just two days earlier, Edmonds had another stellar home performance as he scored 19 points on 6-14 FG in a victory over Florida International University.
Edmonds' impressive week of scoring (23 points per game) raised his season average to 9.9 PPG, which ranks third on the team. Edmonds is shooting 38.3 percent from the field and 34.9 percent from three this season, where his 51 made threes ranks second on the team.
Edmonds is an aggressive wing scorer who can knock down threes and attack the basket off the dribble. He has a reliable and confident stroke from beyond the arc, providing the Herd with an effective off-the-ball threat when necessary.
Edmonds acts as a secondary ball handler in the Marshall offense who can provide relief for starting point guard Aleksa Nikolic.
One of Edmonds' greatest strengths is his ability to attack the rim in transition and as a wing penetrator in the half-court.
At 6-foot-4 and 220 pounds, Edmonds has the size combined with outstanding body control to finish through contact.
Edmonds is equally solid on the defensive side of the ball, where he displays solid defensive technique as a man-to-man defender.
Head coach Dan D'Antoni said Edmonds is adjusting his game for the better.
"He gives you another guy that can attack and get to the rim and do some things," D'Antoni said. "He doesn't have the same 'pop' that he used to, but he is getting to the rim. He is adjusting his game, and he is a much better three-point shooter. He is strong and a tough-minded kid, and you got to like players like that." 
Bradley Heltzel can be contacted at [email protected]