Record-Breaking 'Maximum Capacity' Exhibit on Display
The "Maximum Capacity" exhibit, a continued edition to "Minimum Capacity," includes the largest collection of origami shirts in the world. The exhibit will be open Oct. 5-23 in the Charles W. and Norma C. Carroll Gallery in the Visual Arts Center, in downtown Huntington. 
Supported by the Joan C. Edwards Distinguished Professors in the Arts Endowment, Sandra Reed, professor in the School of Art and Design, led the grant-funded project in collaboration with Atlanta-based artist, Craig Drennan who visited the campus in January and joined students during a trip to New York.  
Drennan worked with the students on their projects and offered advice for their follow-up production of "Maximum Capacity."  
"I remember being a kid in the library and I was always drawn to the Guinness World Records," Peyton Dolin, a senior visual art major said. "When the artist, Craig Drennan, said I needed to push it further, my mind went to a world record." 
Dolin's display includes 3,552 origami shirts, recycled paper from old magazines and scrap paper hanging from the ceiling and pinned on the wall with thumb tacks and sewing pins. The display also includes a centerpiece of nine stacked shirts made from clay, four clay shirts hung on the wall imitating a clothesline and a video projection to show up-close photos of the origami pieces.  
Dolin filled out the Guinness World Record application along with photo, video and witnesses for proof and is currently waiting for an email response. 
With the help from roommates and instructors, Dolin said she started the 12-step origami folding process in Feb. but stopped at 400 shirts, thinking the exhibit would not happen due to coronavirus.  
Dolin made 100 more origami shirts during the summer and then had to make an additional 3,052 more shirts in less than 2 weeks for her display.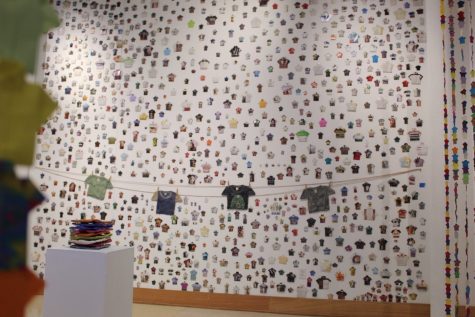 Dolin said clothes help identify personalities and target people with the similar mindset to build a friendship. 
"I wanted a feeling of grandiosity when you look at the installation and get a sense of all the identities that can be represented," Dolin said.  
 Dolin said she wants to sell the origami shirts for $1, where the proceeds will go to Women's Addiction Recovery Outreach Center (HER Place) in Huntington.  
The exhibit portrays other examples of the "Maximum Capacity" theme such as video, audio, ceramics, embroidery, paintings and sculptures. All art in the exhibit has evolved since "Minimum Capacity" to turn into a physical display.  
"After taking their ideas through the twist and turns of this past year," Reed said. "These students are ready for anything." 
Moving all non-Marshall students displays to fall 2021, Jamie Platt Marshall University gallery director, said she is happy Marshall students can present their work in the open space. 
Platt said there will be a virtual reception at 5:30 p.m. Thursday, Oct. 15, to allow the students to present their work and answer questions.  
Xena Bunton can be contacted at [email protected]. 
View Comments(1)
Your donation will help continue the work of independent student journalism at Marshall University. If you benefit from The Parthenon's free content, please consider making a donation.