"The Landing" offers new graduate housing
Current graduate, pharmacy and medical students looking for housing options that will cater to their needs can apply to The Landing, Marshall University's independently operated on-campus residential apartment community. 
The new apartment complex includes fully furnished studio and two-bedroom apartments and is located close to Marshall's forensic science building, pharmacy building, the Erma Ora Byrd Clinical Center and Cabell Hospital.
Leasing for housing is now available in the all-inclusive environment, and Marshall faculty and staff can apply as well.
"They are able to live with people of their age experiencing the same things as them," said Tracy Eggleston, property manager at The Landing. "With grad students, their focus may be in a different place in comparison with a first-year freshman, for example."
Although the landing is an apartment complex, not a dormitory, it is managed by Marshall's housing department, so residents experience some of the same conveniences as if they were living in an on-campus dorm such as First Year North Resident Hall or the Commons buildings. 
"In the building, we have multiple study areas," Eggleston said. "They have on-sight maintenance, access to wi-fi, cable. Anything the student would have received in the resident halls, they're receiving here."
The rent also includes stainless steel appliances, electricity, water with no-cap and trash pick-up. 
Studio apartments have a monthly rate of $994 monthly, with the cost of renting a single room in a 2 bedroom being $745 a month and renting an entire 2-bedroom apartment being $1,490.
"It really is a different kind of environment," Eggleston said. "The safety and security along with the peace of mind knowing that you don't have to worry about your water bill, or electric bill running up unplanned. We want to make it as easy as possible for our students. We want them to have that independence, but also know that whatever they need, they can come get that help."
Olayinka Bamiro can be reached at [email protected]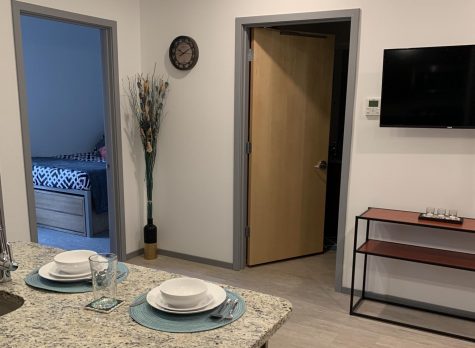 Leave a Comment
Your donation will help continue the work of independent student journalism at Marshall University. If you benefit from The Parthenon's free content, please consider making a donation.