Women's soccer falls to North Texas at home in C-USA battle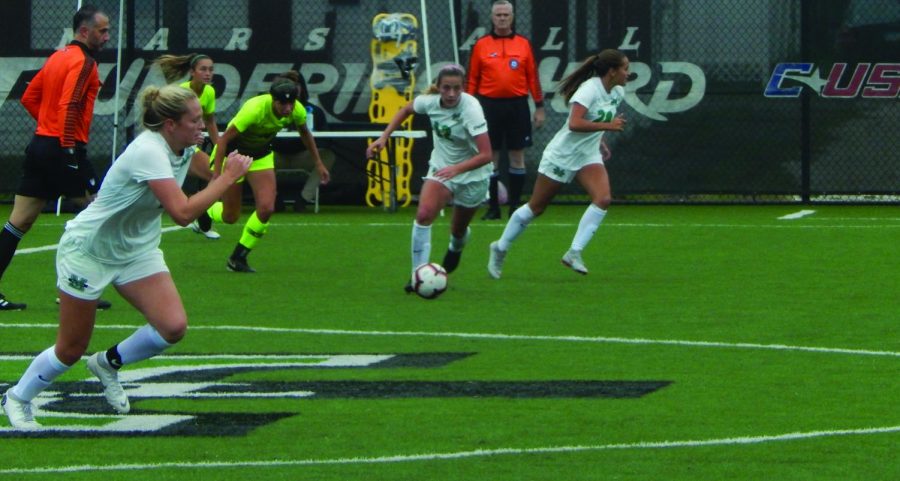 Advertisement
The Marshall Thundering Herd Women's Soccer team lost 3-0 to the No. 24 North Texas Mean Green Sunday at Hoops Family Field.
The loss dropped Marshall to 5-8-2 (3-5-0 C-USA) on the year, while North Texas improved to a record of 10-1-2 (5-0-1 C-USA).
In spite of being shut out at home Sunday, Thundering Herd head coach Kevin Long said he has a handful of positive takeaways from the game.
"I thought it was a positive weekend for style of play and kind of regaining our identity," Long said. "The disappointing part is you get the loss."
The game was scoreless until the 36th minute when North Texas sophomore utility player Brooke Lampe scored off a corner kick from junior defender Madeline Guderian.
The goal, Lampe's first of the year, would ultimately be the deciding goal of the match. The Mean Green rode its 1-0 lead into the half and came out aggressive for the second half with three shots on goal in the first 15 minutes.
North Texas' persistence paid off, as sophomore forward Berklee Peters scored off Logan Bruffett's free kick into the box. Peters recorded her sixth goal of the season—all six of which have come in C-USA play.
North Texas' physical style of play became increasingly prominent as the game went on. A collision between Herd junior goalkeeper Megan Bonelli and UNT senior forward Aaliyah Nolan injured the Herd goalkeeper.
Bonelli remained in for the rest of the game and had another encounter with Nolan, who scored her sixth goal of the season by maneuvering around the goalkeeper in the 81st minute. Nolan sent the ball into the back of the net to bring the game to its final score of 3-0.
Long said Marshall's backs are against the wall, as the team sits at 10th in Conference USA and needs wins in its last two matches in order to qualify for the C-USA tournament. Long said the team will prepare for the squad's next game with a focus on creating more offensive opportunities.
"We've got to get back to a scenario where we're confident in the final third and creating chances for ourselves," Long said. "If we're not getting a handful of shots, we're going to struggle no matter who we're playing."
Marshall will have a week to prepare for its next match against the Louisiana Tech Lady Techsters Sunday at Hoops Family Field.
Derek Gilbert can be contacted at [email protected]