DEAN'S WELCOME: Chuck Somerville of the College of Science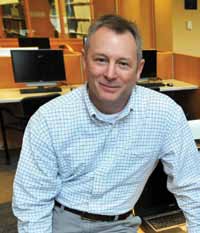 Advertisement
Hang on for a minute...we're trying to find some more stories you might like.
I am Chuck Somerville, dean of the College of Science (COS).  On behalf of the dedicated COS faculty and staff, it is my pleasure to welcome you to – or back to – Marshall for the start of the 2019 Academic Year.  We are glad that you are here, and I want you to know that, whether or not you are in a COS major, we are here to help you reach your goals.
Fall is always an exciting time, with many new faces on campus and lots of activities.  Sometimes the university can be so busy that you may feel a bit overwhelmed.  It is important to find your place within the campus community, and one way to do that is to join a student organization.  There are more than 200 student groups on campus (https://herdlink.marshall.edu/ organizations).  Membership is a great way to start feeling at home and build your lifelong social and career networks.
COS faculty and staff are also here to help you find your place, and navigate your pathway to success.  For example; if you are interested in preparation for a career as a physician, dentist, veterinarian, pharmacist, etc., you should know that pre-professional advising is done in the COS office – room 270 in the Science Bldg.  We also sponsor hundreds of undergraduate research opportunities each year.  If you are interested in studying anything from individual molecules to galaxies, we probably have someone who is conducting research in your area of interest, and who welcomes undergraduate students in his or her research group.  And if you have a research interest that is outside our areas of expertise, we will help you make the connections that you need.
Welcome to Marshall University, and don't forget – we are here to help!