Marshall celebrates Earth Day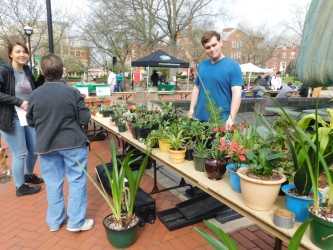 Earth Day, which is typically April 22, came early for the Marshall community Wednesday afternoon as student organizations and outside groups filled the Memorial Student Center Plaza with educational and entertaining activities promoting sustainable and green living.
Amy Parsons-White, sustainability coordinator, said the goal of the Earth Day celebration was to inform the campus community of small things everyone can do to live sustainably.
"You know you don't have to move the earth in order to live sustainably," Parsons-White said. "We wanted to let people know that there are little things you can do every day– you can use less water when you brush your teeth, you can ride a bike instead of driving your car short distances, there are all kinds of tiny things, use less plastic– those kind of things that make a big difference in the long run that you can do every day."
Parsons-White said Marshall will be expanding its recycling program starting this fall, making it easier for students to contribute to the environmental cause.
"We will have far more recycling containers on campus, and we will be accepting glass, so we will be recycling everything you can think of, and we'll be composting all food scrap," Parsons-White said. "So, we're hoping in the fall we will reduce our landfill waste significantly."
Gina Browning, creative ambassador of Goodwill buzz and loss prevention, participated in the Earth Day celebration to show the organization's recycling side.
"We like to come to Marshall for all the events; it kind of pulls everyone in the community together and lets them know what we do," Browning said. "A lot of people aren't aware that we even have recycling, so it's really good to get the word out especially with the younger community that's, you know, up and coming, letting them know we do have this available."
Browning said Goodwill takes a variety of items to be recycled, repurposed or salvaged.
"We basically take pretty much everything," Browning said. "We don't do glass, plastic, tube televisions or mattresses, but everything else we can. Even old clothes that you wouldn't necessarily donate to Goodwill, we can still salvage them and recycle them."
Reyna Abreu-Vigil, president of Marshall's Environmental Science Association, or MESA, said selling plants during the celebration helped raise money for the organization while also promoting the benefits of having plants.
"Earth Day is personally my favorite day of the year, but I think it's really great for students to celebrate Earth Day because not every day do we think about how much plastic and how much trash that we dispose of," Abreu-Vigil said. "We just want to celebrate the Earth and all of the amazing things it has to offer."
Abreu-Vigil said while Earth Day's message is critical to the environment, it should be celebrated every day.
"There are so many endangered species and things we take for granted and this is just our way, just a few people, just trying to spread the message, and I think it's really important for us to do that, because it's not done enough."
Hanna Pennington can be contacted at [email protected].
Leave a Comment
Your donation will help continue the work of independent student journalism at Marshall University. If you benefit from The Parthenon's free content, please consider making a donation.