: Annual Thundering Word showcase aims to educate, recruit new members
Marshall's Thundering Word Speech and Debate Team hosted their annual showcase Monday evening in Smith Hall which highlighted the team's award-winning speeches.
The event showcased eight members of the Thundering Word in categories such as persuasion and impromptu.
Hannah Graham, a second-year public relations and political science major, said she hopes the showcase helps educate attendees on exactly what the team does.
"Hopefully we can show people how eloquent it is, and how much we've been working and practicing and how we all have a story to tell," Graham said. "It's important to be proud of ourselves. We've accomplished a lot in the past year and the past semester and we want to showcase our talents and how hard we've worked."
Graham said the showcase also works as a way to recruit new members for the following year.
"We need to recruit for next year, we're losing a lot of seniors, we need to rebuild," Graham said. "It's very much a rebuild year next year."
Hunter Barclay, a junior pre-med student and Marshall Student Government Association president-elect, said the showcase gives those who are interested in joining the team a chance to explore the different options it offers.
"If someone hears about the Thundering Word and they're not sure exactly what it, or why we're here, they get to see it," Barclay said. "It's just a good way to see the aspects of speech and debate."
Barclay said the showcase is also a good way to get the community involved.
"If they're interested in maybe donating to the team or being a supporter, it's great to see where their money is going," Barclay said. "If you're in the audience tonight watching or if you're a student who sees what we're doing, it can be kind of intimidating at first, but a lot of us have had years of coaching and a lot of practice."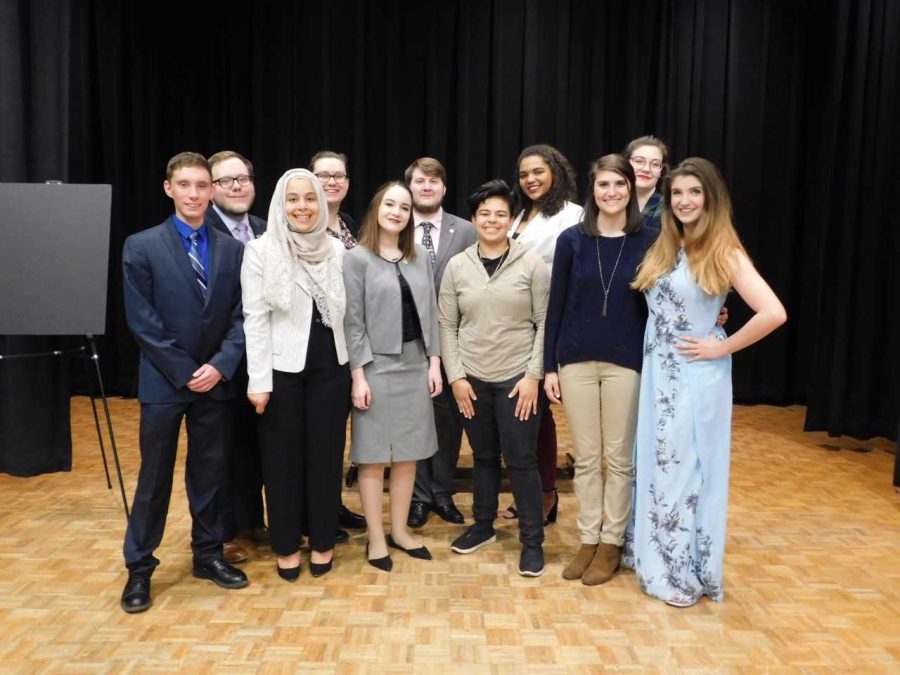 Deena Dahshan, a senior pre-med biology student, joined the Thundering Word this year and said just a single year of being part of the team has prepared her for her future career.
"I had classmates who were on the team, I saw how eloquently they spoke and how they could speak with confidence in front of a large group of people, and I wanted to be able to do that," Dahshan said. "Especially because I was going into healthcare and medicine and wanting to make an impact, realizing that people care more about the story than the facts, and I wanted to be able to project my thoughts and be able to communicate effectively and so I joined the team."
Dahshan said since joining the team she is able to speak confidently in front of others.
"I went way outside my comfort zone, but it was worth it," Dahshan said. "That's how you grow."
The Thundering Word is currently recruiting new members for next year and students interested can contact any member of the team for more information or visit Claire Adkins in Smith Hall 270.
Hanna Pennington can be contacted at [email protected].
Leave a Comment
Your donation will help continue the work of independent student journalism at Marshall University. If you benefit from The Parthenon's free content, please consider making a donation.