Gilbert lectures on 'Gold Standard' of civic responsibility
Caroline Kimbro, Reporter
September 14, 2017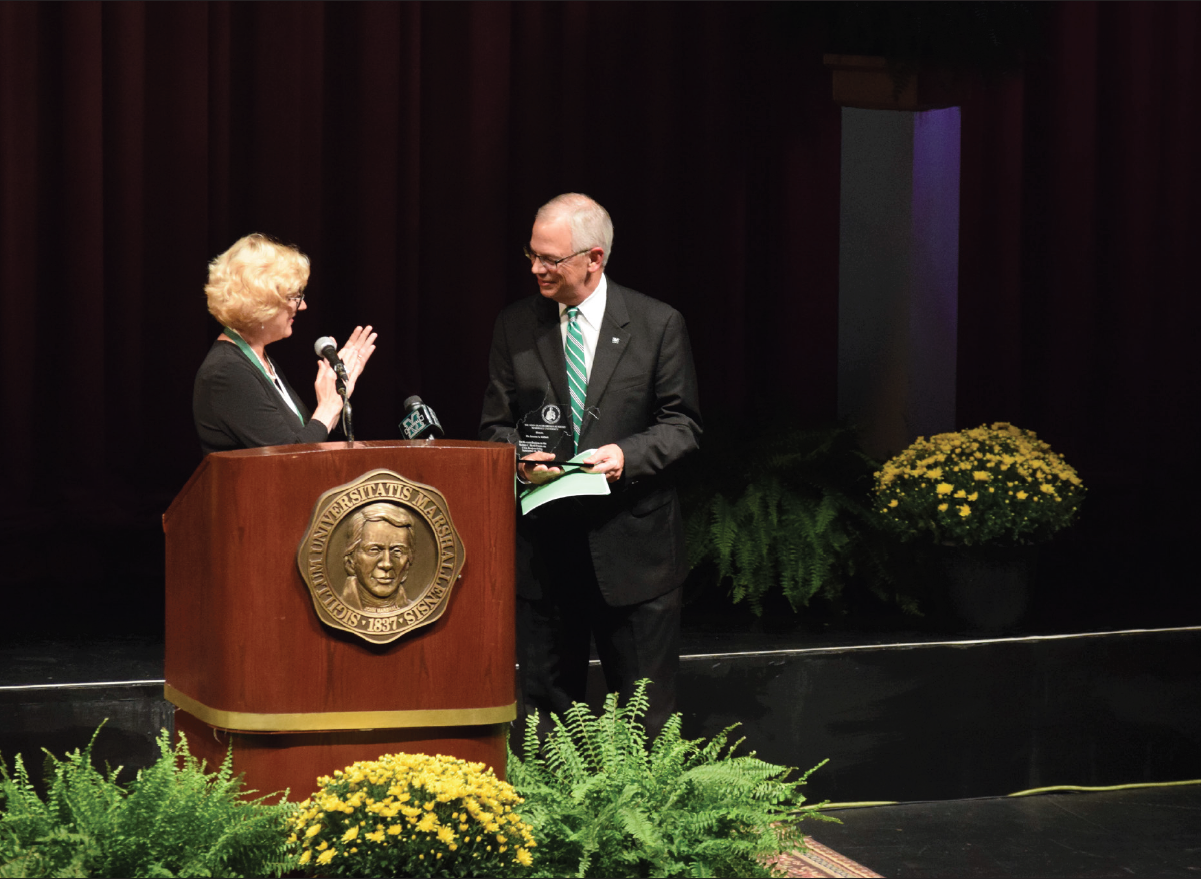 Marshall University President Jerry Gilbert spoke Thursday on the enduring connection between civic responsibility and the Constitution during the seventh annual Robert C. Byrd Forum on Civic Responsibility at the Joan C. Edwards Playhouse.
In his lecture, Gilbert said he wants to emphasize the highest level of civic responsibility, what he calls the "gold standard."
"My argument to you today is that the gold standard of civic responsibility in America dictates that we exhibit behavior that will promote the ideals established in the Declaration of Independence and the U.S. Constitution," Gilbert said. "That would, of course, presuppose that we are an active voter, and that we participate in some manner in our local, state and national government, even at the very least if it means that you take time to educate ourselves about the issues of the day."
Gilbert said civic responsibility encompasses respect for others as an aspect of upholding the doctrine of the Constitution.
"We must exhibit civility towards our fellow man or woman to fully live out the principles set forth in the Constitution," Gilbert said. "Incivility and anger directed at an individual treads on others' pursuit of happiness. It may not be illegal, but it violates the ideals expressed by the founders when they wrote those documents."
Gilbert spoke about First Amendment rights and pro- Trump messages written on the sidewalks of Marshall's campus last year. He said that while he did not agree with the messages, students have a right to express their opinions in that manner.
"In America, we don't have to agree with each other," Gilbert said. "We can, and we should, respectfully disagree on matters when we don't see eye to eye. Respect for one another means tolerance of other views, even when they conflict with ours."
Hannah Petracca, sophomore marketing major and Presidential Ambassador, said Gilbert's lecture was moving and motivational for Marshall students.
"President Gilbert's speech on civil responsibility was both inspiring and instrumental in raising awareness of the golden standard we should uphold as Marshall's sons and daughters," Petracca said. "I personally was moved by his expression of passion, specifically that we should encourage others to pursue their passions in such a way that violence is avoided and diversity is supported."
At the end of the lecture, Gilbert answered audience questions, and Montserrat Miller, a Marshall professor of history and Drinko Fellow, presented Gilbert with an award from the John Deaver Drinko Academy of Marshall University to honor his contribution to the forum.
Caroline Kimbro can be contacted at [email protected]