Campus abuzz as new students arrive for orientation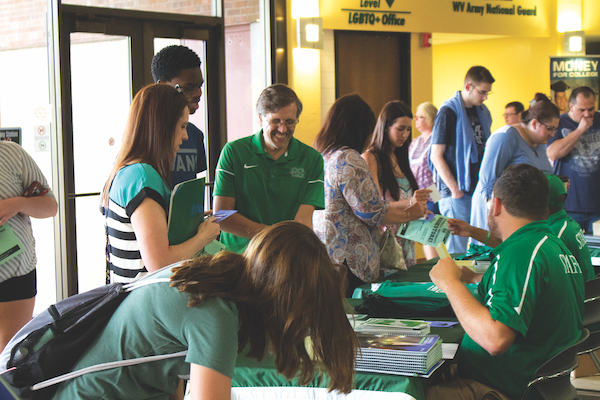 Marshall University is buzzing with energy, even during the summer time. For several weeks spread throughout the summer, the campus is filled with incoming students hoping to learn more about the university and its services.
Cedrick Gathings, the university's Vice President of Student Affairs, stood outside  of the student center Thursday morning, welcoming incoming freshman students.
"It's an opportunity for students to interact with other students and talk about their experience," Gathings said. "One of the things we want to do is make sure the students feel comfortable when they come to campus and feel as if when they get here they already know as much as they can know about where the buildings are located and who they can talk to when they need assistance."
At orientation, students can expect to learn about graduation requirements, how to navigate student resources and support services and meet with an academic adviser to register for the first semester of classes.
"Orientation is very important because during it we take the kids to see advising and they get their IDs," said Sadie Ulmen, a student orientation leader. "At advising they get their schedules and they kind of get to know Marshall before they actually come."
Orientation leaders  play a large role in the orientation process, as they are each assigned groups of students to guide throughout the day.
"Personally, orientation is super fun for all of us because we get to really connect with the kids and just kind of put our foot in the door of having their first Marshall experience be a positive one," said Ulmen.
While orientation is for the incoming students, the student affairs office recognizes that it is also an opportunity to reach out to the parents of freshmen.
"This is our opportunity to show our best face to new members of the Marshall family," said Matt James, assistant dean of student affairs. "A really critical piece for student affairs is making sure we're educating parents on that transition piece. Because from high school to college, that transition can be pretty rough for some students. There's also a lot of learning that goes on outside of the classroom. Our role as student affairs is to make sure parents are comfortable with, not letting go, but forming a partnership with us and their understanding all of the resources and services available to students."
Gathings expressed that orientation shows students and their families the purpose of student affairs on campus.
"What we do every day, we put the students first," Gathings said. "We do things in a spirit of excellency. We make that student and that family feel like, 'you are the reason that we're here'."
Franklin Norton can be contacted at [email protected]