Christian students take stand against human trafficking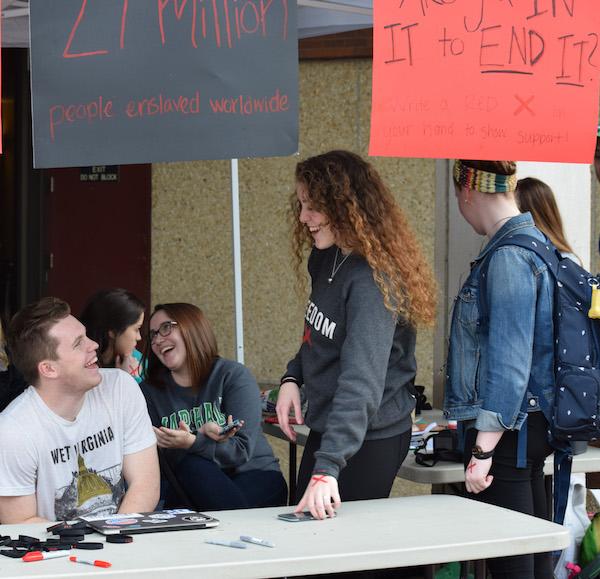 The Baptist Campus Ministry at Marshall University is taking a stand against human trafficking, which they consider to be modern slavery.
"Slavery is very much thriving in different places of the world in very bad ways," sophomore marketing major Zack Simpson said. "27 million people are still victims."
End It Movement is a worldwide coalition that brings together organizations across the globe to help free people stuck in modern slavery by spreading awareness, prevention, rescue and restoration. They say they encourage people to be creative and help spread their initiative to others around them.
To help spread the initiative and shine a light on slavery, BCM members set up a table outside the Memorial Student Center, Thursday where they planned to sit for 27 hours, one hour for every one million persons affected by slavery today. This is all part of a larger collection of protests initiated by the End It Movement that happens on Feb. 23 across the world.
"We're going to be out here for 27 hours, 8 a.m. until noon the next day just raising awareness and spreading the news," junior marketing major Jacob Bradley said. "Hopefully we can gain some traction and make more people aware."
BCM members say they found out about the End It Movement through Passion, an annual event where Christians gather to share and express their faith with others.
"[End It Movement] is very heavily pushed there, some very famous worship artists represent this movement," Simpson said. "The beautiful thing about Passion is that it allows college students to take what they learn there and bring it back to their campuses."
The students of BCM say they hope other students will take notice of their stand against human trafficking and join in to aid the fight.
"Obviously today we aren't going to end slavery, it's just not possible, but we hope that someone we talk to today will take it to heart and have a desire to make a change," Bradley said.
Ryan Murphy can be contacted at [email protected]
Leave a Comment
Your donation will help continue the work of independent student journalism at Marshall University. If you benefit from The Parthenon's free content, please consider making a donation.