City of Huntington continues to address $5 million budget deficit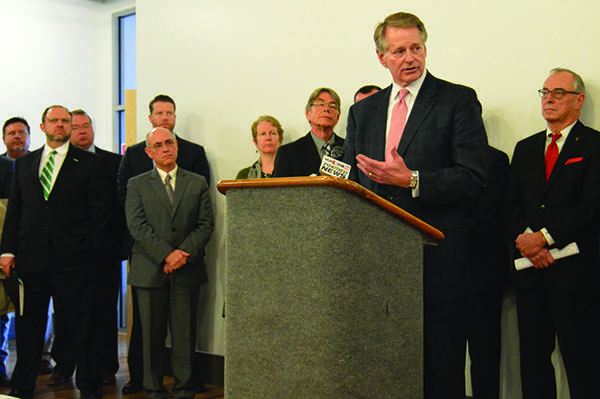 City leaders gathered to discuss Huntington issues Monday morning at the Visual Arts Center. These leaders came together to show their support for Mayor Steve Williams during this time of substantial budget cuts.
According to The Herald-Dispatch, the City of Huntington has a $5 million budget deficit.
Among the leaders of the city, Marshall University President Jerome Gilbert discussed budget issues within Marshall and the state. Gilbert said he does have confidence for the future.
"We as a community have had success because of people like Steve Williams," Gilbert said. "I have confidence in the mayor and the Police and Fire Departments to weather this storm while continuing to provide protection and support to the city of Huntington."
Williams said he is wanting to make more partnerships within the community, especially between business and labor.
Huntington Regional Chamber of Commerce President Bill Bissett shared his challenges in the city of Lexington and their budget deficit. Bissett assured the mayor to count on the support from him and the Chamber of Commerce to "find solutions."
"I saw the dedication of [Williams] in this town and I wanted to be part of that," Bissett said.
Bob Adkins, president of the Huntington Municipal Development Authority, said he also wants to be a part of the solution for the city.
"Just as we support the firefighters and police, we support Mayor Williams," Adkins said.
"The Mayor has given labor a voice and has made us part of the conversation," Adkins said. "Now it is on us to be a part of the solution."
The Rev. Donte Jackson of the First Baptist Church of Huntington said he is also "confident" that the city will overcome.
"It's imperative to find these solutions," Adkins said. "We are on the verge of some exciting breakthrough."
Williams said he wants the public to know these budget cuts are not an easy decision.
"This is not a choice at all of whether anyone should have to choose in supporting police and fire or fiscal stability," Williams said. "We have a plan moving forward and these leaders are helping to implement these plans."
City Council met Monday night to discuss the budget in further detail. The Police and Fire Departments rallied to show concerns outside City Hall.
Sadie Helmick can be contacted at [email protected]
Leave a Comment