Gov. Justice delivers promises for W.Va. at his first State of the State Address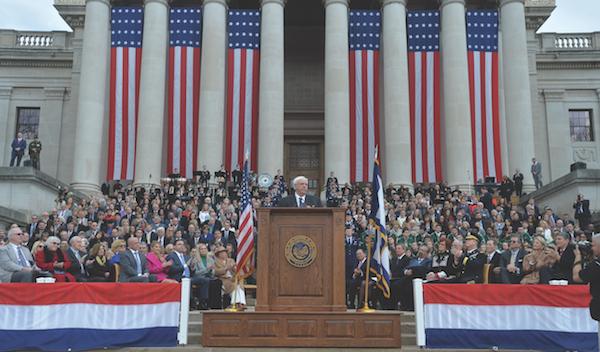 Advertisement
Hang on for a minute...we're trying to find some more stories you might like.
Gov. Jim Justice gave his first State of the State Address Wednesday, filled with plans and goals he has for West Virginia.
Justice won the gubernatorial election after an unconventional campaign, as he won the race with no prior political experience.
He continued this legacy Wednesday at the address, going against norms from past governor's addresses while talking in "plain talk," as he referred to it, and not using a teleprompter to announce his plans for the people of West Virginia.
He started his speech by thanking all his colleagues and mentioned leaders from counties that experienced extensive damage from the flood last year.
After he addressed the crowd, Justice started discussing the budget deficit West Virginia is in and how the state is ranked 50th in the nation.
He said the decisions he and the legislators had to make were not "tough decisions," but "catastrophic ones."
"I am adamantly against raising your taxes," Justice said, but proceeded to say, "We've got to cut all that we can possibly cut."
As he took a marker to a dry erase board, he showcased the numbers and plans he has to bring money back to the state.
Among those plans include raising the Division of Motor Vehicles fee from $30 to $50, a "half a penny" increase in sales tax and increasing toll fees.
Justice said his goal is "to be the 8th state in this country with no income tax," which caused a round of applause from the audience.
After the governor discussed his plans for budget cuts and taxes, he discussed the other main issues he plans to focus on.
Justice said he wants to confront the drug epidemic in the state by getting those affected back to work and create treatment facilities around the state.
Another major topic Justice discussed in his address was his plans for reforming the education system in West Virginia.
He said he plans to "eliminate bureaucracies" in the system, grant teachers a 2 percent raise and to reform the student testing program.
The governor also said he plans to focus on coal, gas, tourism, manufacturing and agriculture for the state.
Justice spoke of President Donald Trump and said if the people give him a chance, the newly elected president will do all he can to help us.
"I believe there's a rocket ship ride right at our fingertips," Justice said.
Kylee Hurley can be contacted at [email protected].