Cole falls to Justice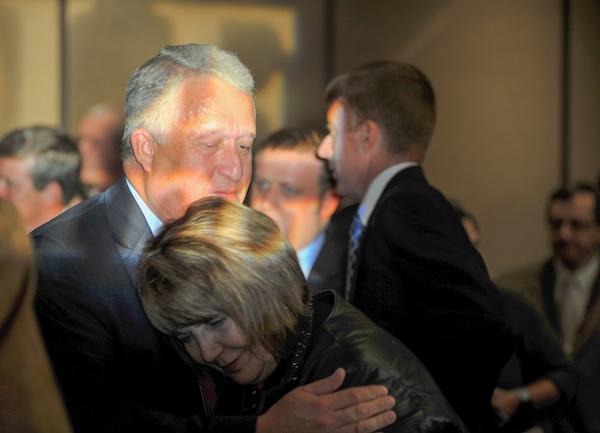 Republican gubernatorial candidate and state Senate President Bill Cole conceded defeat Tuesday in the race for West Virginia's governorship.
At Cole's Embassy Suites election party in Charleston, Cole urged supporters to continue championing the platform and ideas that he had established his campaign upon.
"Even though we came up a little bit short tonight, the issues we fought for should not, will not, cannot be given up on or forgotten," Cole said.
Cole took the stage only minutes after the Associated Press called the race in favor of Cole's opponent, billionaire and owner of The Greenbrier resort Jim Justice, at 9:17 p.m. Cole used his platform to stress the accomplishments of the Republican-led state Senate and the continual fortitude of West Virginia, which he said he saw multiple times during June's historic flooding.
"I end this race with a new appreciation for our state," Cole said. "Having now visited all 55 counties and met with West Virginians from all walks of life, I can tell you the strength of our state rests with their people."
Following Cole's speech, supporters stormed the stage, embracing the state Senate president and comforting him for his loss.
Prior to Cole's concession, supporters at the event were hopeful for a win. Two projections were on display at the event, one displaying Fox News and the other MetroNews election results. As MetroNews began to report precincts, it was clear that Cole was lagging behind his opponent.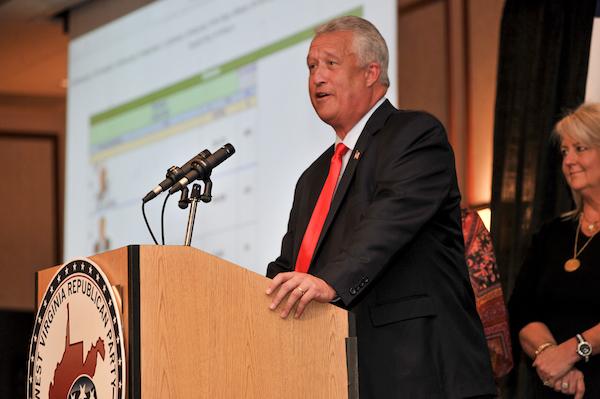 Those in attendance appeared to be equally supportive of Republican politicians elsewhere on the ballot. Cheers poured out from the crowd as Trump added to his electorate, with similar reactions for senate, state and local Republicans
But the cheerful mood became measurably somber after the AP's call, and attendees began to disperse shortly after Cole's speech.
During their respective campaigns, Justice distanced himself from President Barack Obama and democratic presidential nominee Hillary Clinton. Meanwhile, Cole championed Republican presidential nominee Donald Trump, who won West Virginia's Republican primary, as well as the general election.
Justice used many of Cole's preferred presidential candidate's campaign strategies. Notably, Justice framed Cole as a political insider, citing Cole's handful of years in the state Senate and House of Delegates. In contrast, Cole attacked Justice's business ventures and suggested the billionaire lacked a plan for the state, with Cole spokesman Kent Gates quoted in an August Charleston Gazette-Mail article saying, "Jim Justice has no plan other than some risky Wall Street scheme."
But with the dust settled, Cole GOP were ready to accept the defeat and move on to the political issues facing the state, with a greater focus on the legislature.
"I think if we retain the majority in the legislature and continue the work that Bill Cole and Tim Armstead have done so far, I really think we can keep working and working," said Nathaniel Burdette, a Cole supporter and member of the teenage Republicans. "And maybe in four years, we can see a Republican victory for the governor's mansion."
Jared Casto can be contacted at [email protected]
Leave a Comment
Your donation will help continue the work of independent student journalism at Marshall University. If you benefit from The Parthenon's free content, please consider making a donation.