Men's basketball looks ahead to new season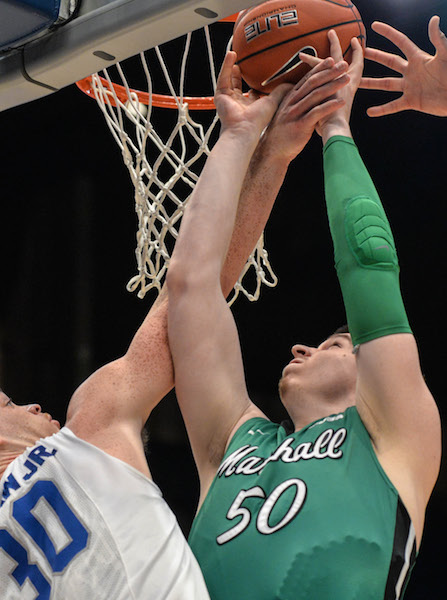 After finishing third place in C-USA and falling two wins short of a NCAA tournament bid last season, the Thundering Herd men's basketball team will break into the big tournament behind third year head coach Dan D'Antoni.
D'Antoni wasn't willing to guarantee wins and losses, but did guarantee some things he considers under the teams control.
When it came to the goal for this season, D'Antoni was loud and clear:
"Our goal, as always, is to win the NCAA title," D'Antoni said "Every Division 1 school should have that same goal. How far that journey takes us is always up for grabs no matter how good or bad you are."
Marshall will look to improve on the defensive side of the ball where they were out rebounded by an average of three rebounds a game last season. While Marshall has on fire from three last season, they also allowed their opponents to shoot nearly 40 percent from beyond the arc.
"We concentrated a lot this year defensively," D'Antoni said. "Hopefully it will pay dividends, I have always thought that great defense leads to quicker baskets and that's what makes defense fun."
Describing his team this season, D'Antoni said he knows they will be better at the end of the year.
Marshall has six of its top seven scorers back this season, with only James Kelly departing, giving the Herd a good chance to build on a 2015 season that showed the team to be offensively explosive and full of potential.
Senior forward Ryan Taylor is one of those returning players, and also one of Marshall's top three scorers from last season.
"Honestly, this team can go down as one of the best teams to play at Marshall," Taylor said "We have a little bit of everything."
Marshall will open up regular season play at noon Saturday, Nov. 12 at the Cam Henderson Center and will look to open the season with a big home win against North Carolina Central.
Troy Alexander can be contacted at [email protected]