Tri-State comes together to fight opioid epidemic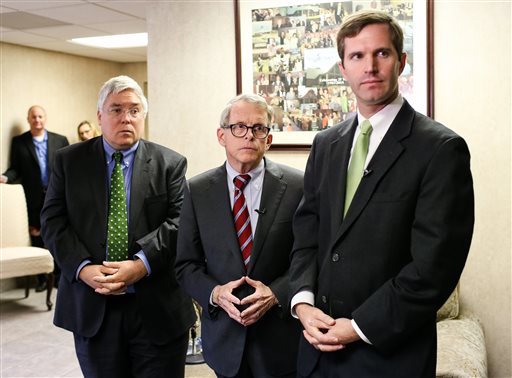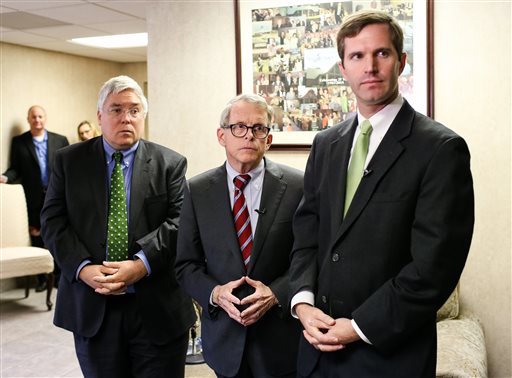 In the past three months, Montgomery County, Kentucky, saw 12 overdoses in one day. Cincinnati, in the span of six days, had 174 overdoses, reported by The Washington Post. And here in Huntington there were 26 overdoses in just four hours.
The tri-state area is the epicenter of the heroin epidemic in America, and efforts to stop this are now not only being made within the state governments, but by all three states combined.
The Attorney Generals from Ohio, Kentucky and West Virginia met Thursday morning to discuss with victims, family members and law enforcement about how to confront this crisis.
The meeting was held at the New Life Church in Barboursville, West Virginia. Before the meetings and panels began, the three Attorney Generals held a press conference to talk about the issues each state was facing.
"Imagine if we walk out of this meeting today and we turn on the radio and it notifies us there's been ten people killed in a terrorist attack in Ohio, Kentucky, or West Virginia. Then imagine if that same thing happens the next day, and the next day, and the next day. We would all be up in arms, and yet this silent killer is there every single day," said Ohio Attorney General Mike DeWine.
Kentucky Attorney General, Andy Beshear, discussed his concern with dealers crossing state lines and distributing to their citizens.
"These drug dealers don't recognize state or county lines," Beshear said. "We believe that the same bad batch of fentanyl caused huge numbers of overdoses here in Huntington, in Mount Sterling, Kentucky and in Cincinnati, Ohio. So we have to be able to work together to go after not only these dealers, but to also cut the demand."
Each of the generals emphasized education of addiction and how to combat it.
"We've got to get our way out of this problem. We can't arrest our way out of this problem," said DeWine. "We would not decide to teach writing or English or math by waiting till the fifth or sixth grade. And then skipping a few more years, and waiting till the tenth or eleventh grade."
With programs like the naloxone training being given by the Huntington Health department, and Marshall University in search of an addiction crisis specialist to come and teach students and study Huntington, education has become one of the newest ways to try and combat this epidemic.
Tom Jenkins can be contacted at [email protected].
Leave a Comment
Your donation will help continue the work of independent student journalism at Marshall University. If you benefit from The Parthenon's free content, please consider making a donation.