Dawson returns as Herd's Grand Marshal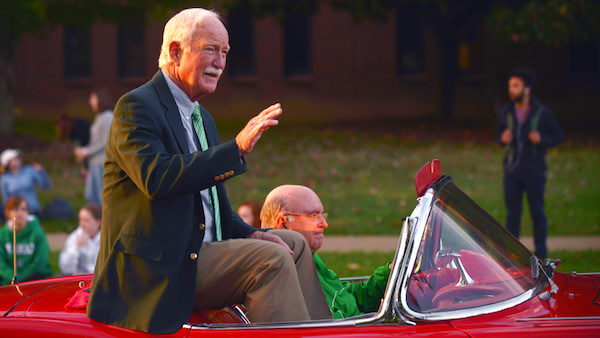 It's been 45 years since Red Dawson, assistant coach of Marshall University's Young Thundering Herd, has led the football team onto the field.
In 1970, Dawson had been an assistant coach with the team for two years when the devastating Marshall plane crash shook the Huntington community indefinitely. All 75 team members, coaches, fans and crew on board perished.
After the crash, Dawson stayed with the team for another season and helped build the program back up after the devastating accident.
Now, four decades later, Coach Dawson will lead the annual homecoming parade down 5th Ave. as it's Grand Marshal. Dawson's last season coaching football was the 1971 season, and he wouldn't come to football games for almost 15 years.
Dawson grew up in Southern Georgia right above the Florida-Georgia line. He attended Florida State University and became an All-American tight end and defensive end. He was also coached under college football legend, Bobby Bowden, who Dawson still stays in contact with today. He then played for the Boston Patriots until he ended his playing career because of injuries.
Dawson came to Huntington in 1968, where he began his coaching career under former Marshall coach Perry Moss. The program at the time had some of its worst seasons in Marshall history prior to his arrival.
"We had a 28 game losing streak when I first came up here, but we thought 'that won't last long,'" Dawson said. "We tied the first game of the season and then would lose nine in a row. And then we had not a bad ending to the season before the crash. The year of the crash, we had a pretty good season. And then, you know, everything was torn up again."
Although he returned for one season after the crash, Dawson said he couldn't watch or enjoy the game for more than a decade.
"I got down a little bit for several years," Dawson said. "I didn't go back around the program, I didn't go to the football games, I didn't watch them on TV. I just got tired of it. Then, when Bob Pruett came in the 80's, they all tried to get me to come back around. I just wasn't interested in football anymore. Then a good friend of mine, Joe Feaganes (former Marshall golf coach), said 'why don't you come out for a tailgate.'"
Then, Dawson returned to the Herd.
He now has a tailgating spot for every game and said he finally enjoys the atmosphere of Huntington on a Saturday and the excitement a game day brings again.
Dawson has lived in Huntington for 48 years now and has never left the city. After his coaching career, he became a construction worker, eventually starting his own construction company, which would later contribute to places in Huntington such as Pullman Square.
"I liked football and I liked coaching, but I don't think I could've done it for very long after what had happened. I got into another business, and I was the head coach then," Dawson said. "You know I was coaching all the guys outside digging the ditches and working on the sites. And we did some nice developments."
Dawson has not only contributed to the development of Marshall, but also to the development of Huntington, which he has made his home. Dawson still lives in Huntington, where a statue of a bison sits in front of his house. The statue is identical to the three bison placed in front of the Shewey Athletic Complex on campus.
This year, Marshall President Jerome Gilbert, in his first homecoming season as president, asked Dawson to lead the march down 5th Ave.
"I couldn't believe they were asking me to do that," Dawson said. "It's a great honor, I kept asking him are you sure? You've gotten everybody else's ok on it? But I think I'll do fine. I hope I don't get emotional, but if I do, you know, it'll be an emotional time."
Tom Jenkins can be contacted at [email protected].
View Comments (2)
Your donation will help continue the work of independent student journalism at Marshall University. If you benefit from The Parthenon's free content, please consider making a donation.