Kaine and Pence spar over running mates during vice-presidential debate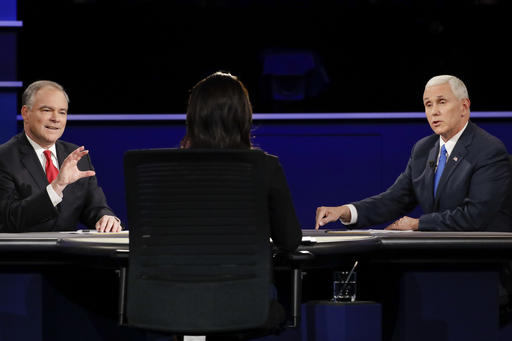 The only vice presidential debate in the general election was televised Tuesday night from Longwood University in Virginia.
Republican nominee Michael "Mike" Pence, former governor of Indiana, faced off with Democratic nominee Timothy "Tim" Kaine, senator from Virginia. The debate was moderated by Elaine Quijano.
Leading up to this debate, Pence was expected to smooth over the damage Donald Trump has done and Kaine was expected to keep Hillary Clinton's winning momentum going.
The first question asked by Quijano was directed to Kaine, determined by a coin toss. The first topic was presidential leadership. Quijano asked, "What qualities, skills and temperament do you have in order to be President?"
Kaine said he wants to be Clinton's right-hand person during this historic presidential nomination. Kaine also went on to say why Clinton picked him as her vice presidential nominee.
"She said to me, you've been a missionary and a civil rights lawyer. You've been a city councilman and mayor. You been a lieutenant governor and governor and now a U.S. senator. I think you will help me figure out how to govern this nation so that we always keep in mind that the success of the administration is the difference we make in people's lives," Kaine said.
Pence responded with, "I would say I would hope that if the responsibility ever fell to me in this role that I would meet it with the way that I'm going to meet the responsibility should I be elected Vice President of the United States, and that's to bring a lifetime of experience, a lifetime growing up in a small town, a lifetime where I've served in the Congress of the United States, where I've led a state that works in the great state of Indiana and whatever other responsibilities might follow from this."
Quijano went on to question the character of the presidential candidates and let the VP candidates defend them. Kaine brought up that both Trump and Pence have said Vladimir Putin is a great leader and Pence brought up Clinton running insulting ads in her campaign.
Both candidates were asked about their economic plans and how they would add to the already growing $19 trillion national debt.
"The fact that under this past administration of which Hillary Clinton was a part we have almost doubled the national debt is atrocious," Pence said. "I'm very proud of the fact that I come from a state that works. The state of Indiana has balanced budgets."
Kaine replied with, "On the economy, there is a choice for the American electorate. Do you want a "you're hired" president in Hillary Clinton or a "you're fired" president in Donald Trump?"
Pence was asked about why Trump will not release his tax returns and Pence said there are over 100 pages of filed financial disclosure that people can review. This caused both of the candidates to begin talking over each other and Quijano told them people at home could not understand them when they spoke over each other and that they needed to wait until the other was finished before they started speaking.
The candidates debated back and forth on topics like illegal immigration and terrorism. Pence said Clinton and Kaine's plan was too weak and would only allow more immigrants to illegally come into the U.S. and Kaine said Trump and Pence's plan would take away birthright citizenship and deport 16 million people. On the topic of terrorism, Kaine said there is nobody who can fight terrorism like Clinton.
"She was a senator from New York on 9/11 at the World Trade Center when they were searching for victims and survivors. That seared onto her the need — she was part of the national security team that wiped out bin Laden," said Kaine.
Pence disagreed and said, "I want to give this president credit for bringing Osama bin Laden to justice, but the truth is he led Al Qaeda. The primary threat today is ISIS. Because Hillary Clinton failed to renegotiate a forces agreement that would have allowed some American combat troops to remain in Iraq and secure the hard-fought gains that the American soldier has won, ISIS was able to be literally conjured up out of the desert and it has overrun vast areas."
One of the last topics discussed was where the candidates stood on abortion and their faith. Both candidates had different views on abortion, but both agreed that faith played a large role in their lives.
This was the only vice presidential debate for this election. The second presidential debate will be Oct. 9 starting at 9 p.m., moderated by CNN's Anderson Cooper.
Sara Ryan can be contacted at [email protected].
Leave a Comment
Your donation will help continue the work of independent student journalism at Marshall University. If you benefit from The Parthenon's free content, please consider making a donation.