College of Health Professions hosts annual Health and Wellness Fair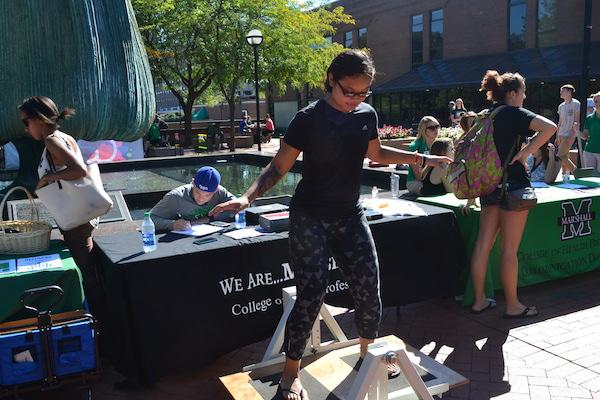 Marshall University's College of Health Professions hosted their annual community Health and Wellness Fair Wednesday.
During the fair, students, staff, faculty and community members had a chance to take part in different screenings, including blood pressure, glucose, functional movement, hearing, body composition and pulmonary function. Current students from Triad Tech were also present at the fair offering free chair massages.
Sophomore communications disorders major, Morgan Whitt, said she believes it is important to get involved with health and wellness initiatives on Marshall University's campus. She said she believes that other students and those in the region should take part and reap benefits of resources like the Health and Wellness Fair.
"As a state and as a community in Huntington, I think it's important that students realize that there are opportunities to better themselves with people around them," Whitt said.
Whitt is a member of the National Student Speech Language Hearing Association through the Department of Communications Disorders, which was present at the fair.
The College of Health Professions, through the Health and Wellness Fair, wished to provide access to various Marshall University divisions and departments that are often overlooked.
Bridget Waters with Marshall Cardiology is a continued participant of the annual Health and Wellness Fair, as their department offers blood pressure screenings and provides information about heart health and different cardiac issues that one may have.
Waters said she believes it is important that Marshall hosts events like these to have an opportunity and a platform to educate.
"It's great that we do these things and get information out to the people," Waters said.
The fair did not only give people the opportunity to receive health screenings and literature, but also provided resources that taught wellness activities.
Heather Stewart, personal trainer from the Marshall University Recreation Center, said she was excited to be a part of the Health and Wellness Fair to promote healthy lifestyles and to offer different exercise activities for people to take away.
Stewart believes that events like these are critically important for those who are healthy and those who are not as healthy.
"It shows people how healthy they are or can be and, if they have joint problems, they can talk with orthopedics, if they have heart problems, they can talk to cardiology and, if they would like to seek a new workout regiment, they can speak to us," Stewart said.
The College of Health Professions sponsors this fair annually, however, this year the event was held as a part of the celebration of the 2016 Presidential Investiture.
Darius Booker can be contacted at [email protected]
Leave a Comment
Your donation will help continue the work of independent student journalism at Marshall University. If you benefit from The Parthenon's free content, please consider making a donation.