Column: What do you stand for?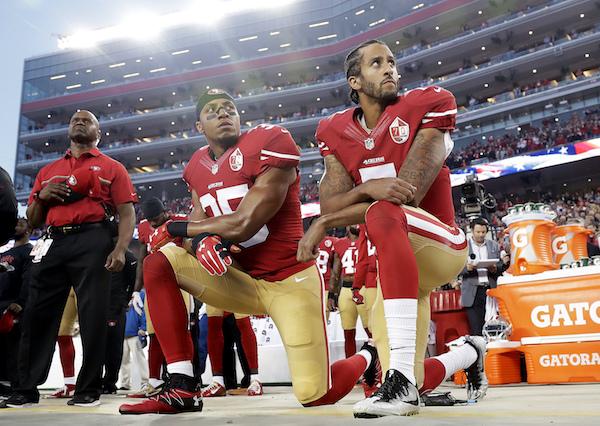 Let me preface this by saying that I have absolutely no connection to the world of sports. I played little league soccer, football and baseball, but really just warmed the bench for the majority of the time, with the exception of a homerun that resulted in a gnarly injury, but that's a story for a different time.
There is one name I keep seeing despite not following ESPN or Sports Illustrated on Twitter and Facebook, and that name belongs to San Francisco 49'er Colin Kaepernick.
Kaepernick started sitting during the national anthem during the NFL pre-season instead of standing with his other 49'ers to protest an almost systematic killing of African American men and women in the United States. It wasn't too long before fellow NFL players joined Kaepernick in this silent and peaceful protest. Players from the Seahawks linked arms in solidarity, players from the Dolphins are taking knees, players from the Rams and other teams are raising their fists in the air, a move more commonly associated with the black power movement. Players are increasingly ready to acknowledge that there is a severe issue in America. These men make stacks and stacks of money and are now using their influence and position to shed light on an atrocity. I can't bring myself to understand the hate towards these, usually, black men.
It's no surprise that people are pissed off, but is this anger misguided?
I would venture to say yes. Jesus Christ, yes.
People want to act like Kaepernick is solely responsible for mass genocide and let me tell you, that certainly is not the way to go.
Is this because Kaepernick and others are disrupting the status quo of the NFL? In a league filled with men who are committing crimes like rape, murder and theft, why does everyone want to talk about these men? Robert Rozier played for the St. Louis Cardinals and admitted to killing seven white people and offering their body parts to appease a cult leader, but you guys are upset over a small, silent disruption.
I'm left wondering if people are mad just because they're a different color, which I'm sure has something to do with it to a small degree. I believe a lot of these stuffy white men are viewing these smart, politically and socially conscious black men as threats.
Not to mention, there is no law, or decree that states that you must stand for the national anthem. It's nowhere. Please, find it. I am waiting.
America is no stranger to fighting for what's right and aligns with the general idea of justice, so why is it that these people can't fight their battle and try to make a difference? Threats of violence are just propagating the completely wrong message. Men and women died violently to preserve the right to both stand and show adoration for the country, or sit and make a statement.
Say what you want about Kaepernick and his peers, but they are getting you to talk about them, which in turn, sparks more conversation about the issue. Like it or not, Kaepernick and other men are getting you to think about things that you wouldn't have otherwise thought about, sitting in your LAY-Z boy, eating chips, drinking light beer, NOT STANDING FOR THE ANTHEM AT ALL and cheering on people who have done much, much worse.
William Izzo can be contacted at [email protected].
Leave a Comment
Your donation will help continue the work of independent student journalism at Marshall University. If you benefit from The Parthenon's free content, please consider making a donation.