Huntington mayor discusses opiate treatment with White House officials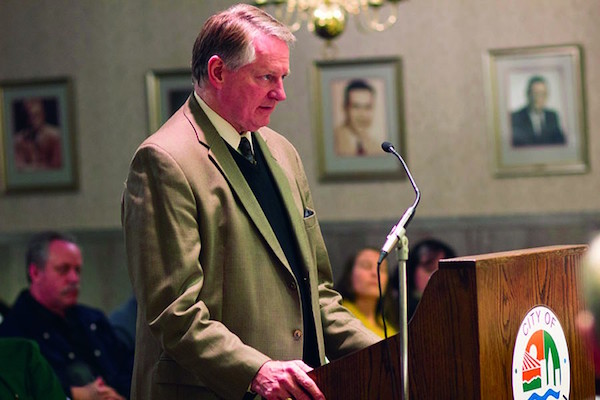 In the midst of what is now the worst opiate epidemic to hit Huntington and the entire U.S., Huntington Mayor Steve Williams spoke to White House officials Tuesday about the importance of funding the fight against the opiate crisis.
In 2015 there were 70 deaths in Huntington alone, now in 2016 the death total from opiate overdoses is up to 35. Although that is a 25 percent drop from the year prior, Huntington has recently seen 26 overdoses in a four-hour span.
This past October, President Obama was in Charleston to discuss the opiate epidemic across the nation, but specifically in West Virginia. In the president's 2017 budget, he proposed a $1.1 billion funding plan to fight against the opiate crisis in America.
The secretary of the U.S. Department of Health and Human Services, Sylvia M. Burwell, is from West Virginia and has been helping with the efforts to try and convince Congress to approve the $1.1 billion plan.
"These funds would help make sure that people who wanted treatment for an opioid abuse disorder can get that treatment," said Burwell. "They would help place treatment providers in the communities most in need, they would help develop even more effective ways to further expand access to naloxone and recovery support services."
Naloxone is a drug overdose kit that can help save someone who is having an overdose. The drug is an opiate blocker that may soon be able to be purchased as an over-the-counter drug in West Virginia. Bill 4035 is still being read by the WV senate, but, if passed, it would allow anyone to purchase the opiate blocker.
"As we are dealing with the issues relating to addiction locally, you will hear four words consistently," said Williams. "You'll hear about prevention and intervention, you'll hear about treatment and law enforcement."
Williams said all of Huntington's first responders are trained on how to administer naloxone.
"I'm even trained as to how to administer naloxone," Williams said, "and I carry a kit around in my pocket, as do my chief of police and the fire chief and all of our first responders, so that we can first and foremost save lives."
Along with funding for awareness and prevention, Mayor Williams spoke about the importance of more funding to give the state of West Virginia more detox beds. In West Virginia there are only 28 detox beds, according to Williams.
"There are only 8 detox beds just in my home county," Williams said. "That day where we had 26 overdoses, we didn't have enough beds available in the entire state if every person had come and said 'I need help.'"
Williams said most times there is a 6 month waiting period before somebody can get treatment.
Williams continued to tell White House officials the importance of passing the Presidents $1.1-billion-dollar budget proposal. He urged Congress for their support, stating that there is no time to wait for a presidential election.
"This isn't a Democrat issue and this isn't a Republican, this is an issue about saving lives," Williams said.
Congress has not passed the $1.1 billion funding plan, but will continue to debate this issue of spending. The vote may wait till a new president is in office this January.
Tom Jenkins can be contacted at [email protected].
Leave a Comment
Your donation will help continue the work of independent student journalism at Marshall University. If you benefit from The Parthenon's free content, please consider making a donation.