Mayor Williams unveils new all-inclusive playground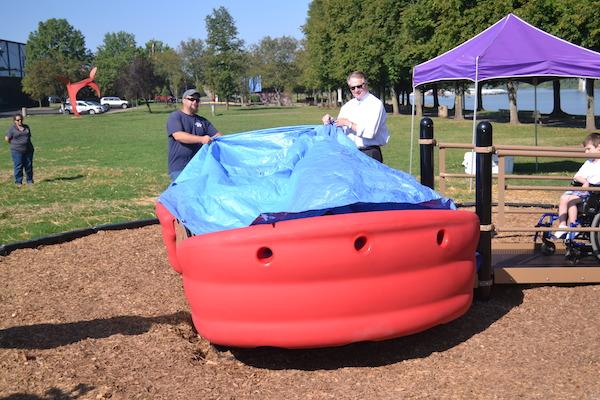 Huntington Mayor Steve Williams unveiled a new Sway Fun wheelchair-accessible swing at the Harris Riverfront Park playground Tuesday morning.
The Park & Recreation Department received a call from a mother, Shanda Jenkins, who was wanting to start a GoFundMe.com account to raise money for a wheelchair-accessible swing. Jenkins' son Brady, age 7, is confined to a wheelchair and has only been able to watch while other kids play.
"This way Brady can play with his siblings now, instead of sitting on the side and watching," said Jenkins. "When I called I was just asking about a swing."
Jenkins was unaware that the Executive Director of the Parks Department, Kevin Brady, had already begun planning an all-inclusive playground a year ago. Kevin Brady stated at the event that "almost 25% of all children in the Tri-State area between the ages of 5 and 21 have some type of disability."
With the swing, the city of Huntington wanted to take a step closer towards equality and making sure children with disabilities are able to enjoy a playground just as much as any child. This is also a step closer for Mayor Williams and his efforts to earn the city of Huntington the "America's Best Community" award.

Tom Jenkins can be contacted at [email protected].
View Comments(1)
Your donation will help continue the work of independent student journalism at Marshall University. If you benefit from The Parthenon's free content, please consider making a donation.