Hillary Clinton addresses steel market, energy Monday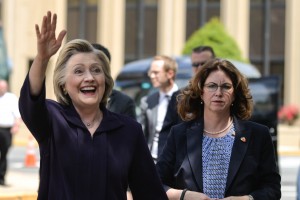 From the edge of the police tape, Ashland-native Frances Hughes held her iPhone high. But unlike the other Hillary Clinton supporters, Hughes wasn't taking pictures.
Instead, she displayed her own image: one of her father's first run-in with Hillary's husband, former President Bill Clinton.
The photograph, faded by time and years of frequent handling, captured Hughes' father and eight children posed alongside President Clinton during a stop in Ashland, Kentucky.
"He's wearing all 14 of his medals in the photograph," Hughes beamed.
Hughes and a hundred others lined the sidewalk opposite from Alma's Italian Restaurant, where democratic frontrunner Hillary Clinton made a stop on the campaign trail Monday before the May primaries.
Clinton met one-on-one with former AK Steel employees and representatives of United Steel Workers for a roundtable discussion in the quaint Italian restaurant, where the group examined the state's inability to keep steel industries afloat in a saturated market: specifically one that endured a 600-employee layoff in December.
Adam Abt, accompanied by cousin and Alma's employee Jamie Callahan, said he was one of few Clinton supporters in the region dominated by steel and coal industries, but felt that Clinton's efforts to break barriers between socioeconomic classes were admirable.
"The industries around here are dated, and we need to be accepting of the fact that we need to improve them," Abt said. "We're here to support her and her plans to do that."
Callahan nodded in agreement, noting Hillary's acceptance of the LGBT community.
"As a gay male, I know that she's there for us," Abt said. "The restaurant Alma's is locally owned by a gay couple, and that's certainly one way to show support for the [LGBT community]. What better backdrop than this where Kim Davis was in court?"
Others weren't as enamored.
In a small crowd of protestors, Jose Gonzalez of Catlettsburg, Kentucky, held a handmade poster that spelt Clinton's name in an acrostic poem comprised of the words "Benghazi," "Watergate" and "Email-gate."
"The fact that people are here and cheerleading for her really blows my mind," Gonzalez said, scanning the crowd of supporters. "They need to do their research and see who they're throwing their weight behind."
Gonzalez said he felt the urge to raise awareness of Clinton's alleged unethical practices.
"She's gutting the area," he said. "As far as the Tri-State is concerned with coal, the North American Free Trade Agreement and some of the other policies she and her administration have helped support [are] tearing this community apart."
Gonzalez shifted his view to the building that contains Alma's Italian Restaurant.
"If you look at the building in front of us, there are three stories above where she's visiting that are for lease, and six minutes down the road, AK Steel is out of business, CSX is laying people off," he said. "This is not the candidate for the Tri-State."
Lexi Browning can be contacted at [email protected]