FEST:2 Preview: A Story Told
More stories from Nathan Thomas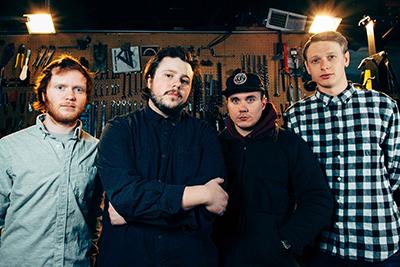 Charleston based pop rock band A Story Told is one of six West Virginia bands performing at Fest:2.
"I think it's going to be really cool," said Josh Allen, drummer. "Most of us have been out of school for a little bit so it's going to be fun to come back to where we started this whole thing and show everybody what we've been up to since we've been gone."
"We're excited to play FEST, it's going to be a really fun time," said Alex Chaney, vocalist. "I still go to Marshall and the other guys went to Marshall and our goal this whole summer has been to get out of state and take our music elsewhere but there's really a demand for us to play here, especially something like FEST, which is all-ages. The local response has been incredible since we've been out of town, people have been wanting us to play home again so we're really excited and really honored to be on the lineup."
The band formed in May 2013 as Allen, Chaney, guitarists Joe Chapman and Zach Sallade and bassist, Zach Holley met attending Marshall University while being active in the Huntington music scene.
"Our bands that we were playing in broke up," Allen said. "And we just kind of wanted to keep on doing something, so we just thought it's be a good idea to just start another band."
"
"We're excited to play FEST, it's going to be a really fun time."
— Alex Chaney
Their first EP Remember When was released in June 2013.
"A lot of times bands, they play a bunch of shows but they never put out any music," Allen said. "We wanted to do the opposite, we wanted to put out music so people knew what we were about so when they come to the shows, they'd know what to expect."
The band plans to release a full-length album in early 2015.
"We knew that our writing process takes a lot of time," Chaney said. "Especially for a band that's not that big, it's all DIY. Almost immediately after we put out our last EP, which we put out last August, we started writing for this new album, so when it's all said and done, it'll be a little over a year. That's pretty much what we've been doing, just working on this album and trying to play out of state."
Out of state performances for A Story Told include a set at the Pittsburgh stop of the 2015 Vans Warped Tour, after winning an online vote for the Ernie Ball Battle of the Bands
"The reception has been pretty mind blowing," Allen said. "We've actually gone to shows and seen people singing our songs, which is crazy because we're just five guys from West Virginia."
A Story Told will be appearing locally at FEST:2 at Harris Riverfront Park.
Nathan Thomas can be contacted at [email protected].
Leave a Comment
Your donation will help continue the work of independent student journalism at Marshall University. If you benefit from The Parthenon's free content, please consider making a donation.