HERD REVAMPS DEFENSIVE LINE AFTER SEVERAL KEY LOSSES
Hang on for a minute...we're trying to find some more stories you might like.
More stories from Bradley Heltzel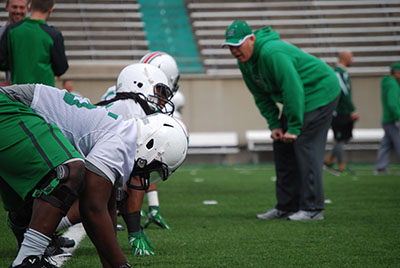 In his weekly press conference, head coach Doc Holliday praised the program's player development during his tenure at Marshall University.
The graduation of perhaps the program's most revered recruiting class will test that theory Sunday when a cornucopia of new starters take the field as the Herd welcomes Purdue University to the confines of Joan C. Edwards Stadium.
However, the number of fresh faces atop the depth chart of the defensive line supersedes that of any other positional grouping after 2014 starters James Rouse, Arnold Blackmon and Ra'Shawde Myers have departed since last season.
The lone returning starter is nose tackle Jarquez Samuel, who Holiday said is a prime example of the team's in-house development.
"We talk all the time about player development within our program and watching guys grow up and become players," Holliday said. "[Jarquez] is surely a guy who has done a great job with that, and he's developed well."
Samuel, a 6-foot-4, 287-pound lineman, started all 14 games last season, accumulating 30 tackles, five tackles for loss, one sack and an interception.
Samuel said as the single returning starter and most experienced player on the defensive line, he has taken on more of a leadership role this offseason.
However, he added that the coaching staff's preparation has resulted in a number of players returning with considerable experience.
Stationed next to Samuel as the team's three-technique tackle will be Steve Dillon, who played in 14 games last season posting 35 tackles, 2.5 tackles for loss and 1.5 sacks. Dillon, who has played at the three technique and nose tackles in the past, said he's ready to perform both roles again this season but acknowledges the differences and difficulties of the each spot.
"At three, I'm more of attacking," Dillon said.
Dillon added that he is a bit rusty at the nose and actually prefers the three because of the position's simplicity.
"That's where I'm more comfortable, as the three," Dillon said. "Once you go through your pre-snap reads and you eliminate blocks coming to you, and what can you possibly get, it's all about just going. You don't want to think too much."
"
"The second one of those guys gets comfortable and stops working, they're going to get beat out.""
— Sean Cronin
Samuel and Dillon will occupy the starting spots, but defensive tackles coach J.C. Price will devote snaps to sophomore Tomell One and redshirt senior Ricardo Williams as part of the rotation as well. The two combined to play 390 snaps a year ago collecting 32 tackles, three tackles for loss and a sack.
Joe Massaquoi and Armonze Daniel are pegged as the new starters for Sunday's opener, although defensive ends coach Sean Cronin will utilize a hefty rotation throughout the season.
"The two best are going to start," Cronin said. "But they're all going to rotate, that's the way we play."
Based on Cronin's assertion, that means plenty of snaps for redshirt junior Gary Thompson and sophomore transfer Blake Keller.
Cronin said a player's place on the depth chart one week does not guarantee anything the next week.
"Depth charts are written in pencil," Cronin said. "I'm never going to put an end to competition. There's going to be somebody for the first game. There might be somebody else for the second game. The second one of those guys gets comfortable and stops working, they're going to get beat out."
Bradley Heltzel can be contacted at
[email protected]