Herd counting on rabid fans Sunday
More stories from Brittanie Fowler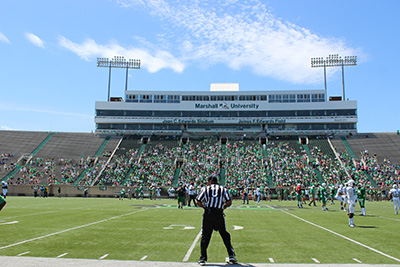 Thirty-eight thousand. That's how many fans it will take to pack Joan C. Edwards Stadium Sunday against Purdue. As of Tuesday, an estimated 30,000 tickets had already been sold.
Marshall ranked at the top of the conference last year for the number of fans attending home games. Joan C. Edwards Stadium averaged a 72 percent capacity in 2014, a number the ticket office would like to beat this season. Coming off a one-loss season and a bowl win, that goal doesn't seem too far out of reach.
What is it that keeps these fans coming back year after year? Marshall fan Alex Dawes explains.
"Being a Marshall football fan… it holds a really strong connection to my family," Dawes said. "I've had several cousins that have donned the green and white and played football for Marshall. I've always grown up a fan but now that I'm here on campus it means so much more. Walking into the stadium anytime you hear the 'We Are…' chant I get cold chills. Even thinking about it, I get cold chills. Being a Marshall football fan means everything and having a community that comes together is what means the most."
Senior team captain Devon Johnson would agree with the statement that Marshall has the best fans in Conference USA.
"They're loyal," Johnson said. "They sit there and support you all game and they don't leave you. Like I said before, many times I've been recruited by different colleges and I've been there and I've seen the games. I see fans leave and don't finish the game when the team's losing big. But if we're losing, the fans are always there supporting us and they stay there and tell us 'congratulations.'"
Marshall fans share a common bond only understood by those who bleed the green and white. Fans have roots in the school as well as the community. Those roots are what bring the community of Huntington together each and every weekend to watch Marshall football.
Johnson, who is from Richlands, Virginia, expects to see some familiar faces in the crowd. With Marshall only being about three hours from home, it gives his family, friends and former coaches the opportunity to travel to Huntington and watch him play.
"This Sunday I'm going to have a lot of people up here supporting me from home," Johnson said. "My high school coaches, my family, and my friends will all be there, so I'll have close to like 20 people there."
As the program seeks a sell-out Sunday as it hosts its first Big Ten team in Huntington, Johnson asks one thing of his fans:
"Come here. Be loud. Cheer hard… and support us."
Predicted score: 24-17 Marshall