Men's soccer splits weekend match, remains optimistic
More stories from Bradley Heltzel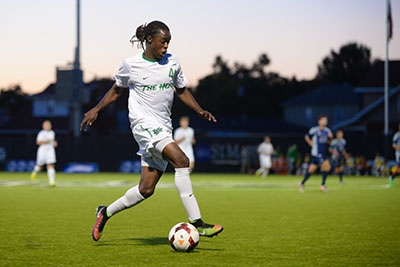 The 2015 Marshall University men's soccer season commenced this past weekend when the Herd toured the state of Michigan, taking on Western Michigan University and the University of Detroit Mercy.
The Herd split the meetings as they fell 2-0 to Western Michigan on Friday, but the team rebounded with a 1-0 overtime victory against Detroit on Sunday when freshman Chris Taibi secured his first career goal as a member of the program.
Taibi said as a freshman he felt he needed to prove his worth to his teammates, but after his game-winning goal, his comfort level is at an all-time high.
"It gives me a lot of confidence," Tiabi said. "Going into the season, as a freshman, you're kind of nervous. It's like a new team. But after I scored the goal, I'm officially on the team."
Despite Tiabi's satisfaction with a road split, Head Coach Bob Gray said the team has plenty of areas in need of rectification heading into its next match.
"Normally, you go on the road and get a split and you're pretty happy," Gray said. "But I was not real pleased with our overall play."
Gray said he expects his team to grow from its first weekend of competition.
"We're going to build from that," Gray said. "That's one of the reasons we are out here training. I think [the players] all realize we've got a lot of work to do to get better. I believe this team is going to have a very successful year."
"
"I believe this team is going to have a very successful year."
— Bob Gray
The Herd finished sixth in Conference USA last season with a 3-4-1 record. However, the team's conference statistics suggest a more melancholy tone. Marshall finished second to last in the conference in goals and points per game.
Gray said despite his team's lack of offensive production in 2014, and although the issue reared its head again this weekend, Gray is optimistic about his team improving.
"I think there is great potential to score goals," Gray said. "We've got to get a lot more movement off the ball. We were very stagnant. We've got to be able to play through the midfield a lot better than what we did, and we've got to be able to get numbers forward."
Gray cited junior midfielder Daniel Jodah as a player who has displayed creativity on the offensive side but who can also step up to achieve an even higher level of play. Jodah led the team in points, goals and shots last season.
The Herd's next match is scheduled for 7 p.m. Friday against Duquesne University. The game will be played in Pittsburgh, Pennsylvania at the Duquesne Rooney Athletic Field.
Bradley Heltzel can be contacted at [email protected].
Leave a Comment
Your donation will help continue the work of independent student journalism at Marshall University. If you benefit from The Parthenon's free content, please consider making a donation.