Roster Rundown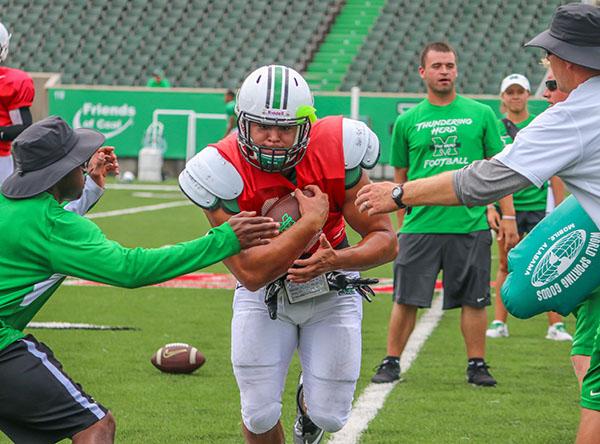 Advertisement
Hang on for a minute...we're trying to find some more stories you might like.
As the Herd present its encore to its successful 2014 season, in which the team went 13-1 en route to a Conference USA Championship and subsequent Boca Raton Bowl victory over Northern Illinois University, the most significant change comes via the relocation of the Church of Cato from the terrain of the Joan C. Edwards Stadium to the foreign borders of the Canadian Football League.
Former quarterback, Rakeem Cato's, impact on Marshall University's program needs no embellishment as he destroyed the program's passing records at an astronomical rate. Cato's 2014 statistical line of 267-451, 3,903 yards, 40 touchdowns with a 77.2 overall QBR is more commonly found on Madden video games than in D-1 football.
However, with Cato's graduation, the Michael Birdsong era is officially set to begin Sept. 6 against the University of Purdue. Birdsong, a James Madison University transfer, last played in 2013 after sitting out the 2014 season due to NCAA rules when he passed for 2,728 yards with 22 touchdowns and 15 interceptions. Birdsong's massive 6-foot-5, 241-pound frame is a polar opposite from the minuscule dimensions of Cato, and the Herd's offense may shift its means of attack in coordination.
The read option will remain a prevalent component of Marshall's offense, but it may transcend into more of a power attack, in which Birdsong is a greater threat to keep the ball himself and absorb the hits Cato's body deemed impossible. It is also reasonable to think the passing game could evolve into a more downfield-centric approach, utilizing play-action to setup Birdsong's ability to drive the ball on intermediate and deep routes.
"
"However, with Cato's graduation, the Michael Birdsong era is officially set to begin Sept. 6 against the University of Purdue.""
Such play-action threats will be the secondary concern of opposing defenses in 2015 due to the return of bruising running back Devon Johnson, who eclipsed rushing totals in handfuls last season.
Johnson amassed 1,767 yards and 17 touchdowns in 2014 despite missing a game and the majority of two others with injuries. He averaged a whopping 8.6 yards per carry, a number typically reserved for speedy backs opposed to power runners like Johnson. The offense is projected to flow through Johnson's aggressive running style even more this season with a new quarterback at the helm and a solid offensive line returning.
Any lauding of said offensive line has to start with redshirt senior Clint Van Horn. The right tackle was named to the preseason all-conference team for 2015, which is no surprise considering Van Horn was voted first-team all-conference in 2014.
Also among the offensive starters returning are redshirt senior Sabastian Johansson and junior Michael Selby, the latter of whom will move to center this season to replace the graduated Chris Jasperse.
Other graduate losses, Trevor Mendelson and Blake Brooks, will be replaced at left tackle and right guard by redshirt sophomore Sandley Jean-Felix and redshirt freshman Nathaniel Devers.
Moving on to the receiving core where the massively productive Tommy Shuler accompanied his good friend, Cato, on the graduation stage. Shuler was a model of consistency throughout his Herd tenure with a knack for getting open— a luxury that will not be afforded to Birdsong.
Instead, Birdsong will look to receiver Davonte Allen, who did not cordially welcome such consistency last season. Allen totaled a healthy 544 receiving yards last season, but on just 22 catches and with the bulk of his yardage coming in three games in which he totaled 393 yards.
Also returning is redshirt sophomore, Deon-Tay McManus who caught 26 passes for 422 yards and six touchdowns last season in 10 games. Joining Allen and McManus is slot receiver Hyleck Foster who projects to have a much larger role this season after catching just 18 balls a year ago but accruing 10 receptions for 126 yards and a touchdown in the final two conference games before falling mostly silent in the team's bowl win.
The tight end spot, which has been a strength for the Herd the past two seasons with Gator Hoskins and Eric Frohnapfel, will fall on the shoulders of Georgia Military College transfer Emanuel Byrd, a long and lean pass catcher who has the skillset to make an impact on seam routes and pop passes.
Bradley Heltzel can be contacted at [email protected]