Replacing greatness
All eyes are on the QB battle as the Herd begins spring practices
More stories from Malcolm Walton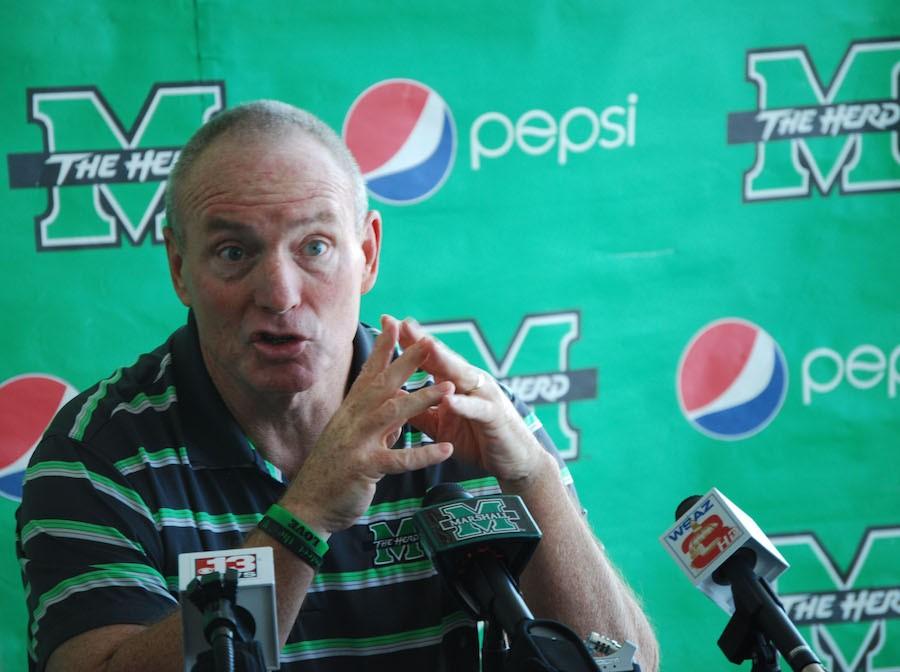 Marshall University's football team begins spring practice Tuesday after capturing its first-ever C-USA Championship and a win in the 2015 Boca Raton Bowl.
"It seems like yesterday, we walked off the field in Boca and here we are back at it again," head coach Doc Holliday said during his press conference. "I know I'm excited as a head football coach to get into spring ball and I know our kids are excited."
Holliday said he and his coaching staff will challenge certain positions to step up and show development during the team's spring practices—including the quarterback position after the loss of four-year starter Rakeem Cato.
Jacob Messer, contributor for Herd Insider, said the competition for the starting quarterback position will be the highlight of the spring.
"Everyone will be paying close attention to the quarterback race largely because of Rakeem Cato and what he accomplished during his four years at Marshall," Messer said. "He's obviously going to go down as one of the Thundering Herd greats. It's not going to be easy for the guy that takes his place." 
"
"We have to get a guy to develop intangibles at that position, which is just as important as the skills.""
— Head coach Doc Holliday
Holliday said there are numerous factors to consider when selecting the starting quarterback.
"We have to get a guy to develop intangibles at that position, which is just as important as the skills," Holliday said. "The leadership that's involved with it, the confidence that the rest of the team has in you and all of that will play a role in us deciding the starter. I think we have some great candidates and somebody will emerge."
Marshall has four quarterbacks on its roster— two juniors and two freshmen. The only quarterback to have taken the field for the Herd is junior Gunnar Holcombe.
Holliday said it is important for the team to name its starting quarterback by the end of spring practices.
"I think it's huge as far as a leadership standpoint," Holliday said. "If they know it's their team, they can provide leadership throughout the summer. At the quarterback position, somebody needs to separate themselves from the others. I think I've said it many times— if you think you got two or three, chances are you don't have any. Normally, there's some separation that occurs with that number one guy from a leadership standpoint, from an intangibles standpoint, making plays, having the 'it' factor, everything that goes along with being a great quarterback. We hope that happens."
Despite uncertainty at the quarterback position, Holliday said his team, which ended last season nationally ranked, is confident heading into spring practice.
"They feel good about themselves," Holliday said. "They understand that playing to win works and that hard work got us to where we are. We can't get complacent and think we just have to show up and it's going to happen. You have to continue to do what got us there, and that's go to work every day and get better as a player and get better as a team."
Malcolm Walton can be contacted at [email protected]
Leave a Comment