Player of the week
More stories from Bradley Heltzel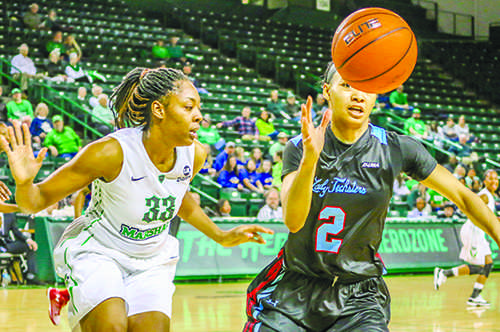 Chukwuka Ezeigbo's contributions to the Marshall University basketball program go well beyond that of a weekly honor.
Ezeigbo could be labeled as the player of the year, or the past four years for that matter. She has been a member of the Marshall program longer than head coach Matt Daniel, playing all four years of her collegiate eligibility at Marshall.
Saturday, Ezeigbo and her senior teammates were honored during pregame for their careers as members of the Herd.
She scored five points and grabbed 12 rebounds in a 66-58 loss to University of North Carolina at Charlotte. Just a day later, Ezeigbo was named to the All-C-USA second team and the conference's All-Defensive Team.
Ezeigbo leads the conference in field goal percentage and ranks second in rebounding among active players with 10.3 rebounds per game. She also ranks fifth in the conference in blocks this season with 38.
Ezeigbo is flirting with averaging a double-double this season with 9.9 points per game and 10.3 RPG heading into the C-USA Tournament. She led the conference with 13 double-doubles this season.
During her career at Marshall, Ezeigbo has represented herself as a high-character student-athlete off the court, while bringing defensive presence on the court.
Ezeigbo ranks fourth in school history with 115 blocks for her career. At 6-foot-3 inches, she has the size to consistently disrupt shots at the rim, but her mobility and awareness is what has made her so valuable on the defensive end.
Ezeigbo can hedge effectively in pick and rolls possessing the foot speed to stay with perimeter players momentarily before recovering to her man in the paint.
Ezeigbo has vastly improved on the offensive end, converting close range shots and securing second chance opportunities for the Herd because of  her work on the offensive glass.
Daniel said Ezeigbo is always ready to work during practice and games.
"[Ezeigbo] is pretty resilient and she comes to work every day," Daniel said. "She's the first one on the floor, typically in practice and for games as well."
Bradley Heltzel can be contacted at [email protected]