One-man band brings folk style to Black Sheep
More stories from Kelsie Lively
My Brother The Bear played a two-hour set Saturday at Black Sheep Burrito and Brews.
Daniel Bayer, sole member of the band, sat at the front of the restaurant with a guitar and a harmonica and played a mixture of originals and covers.
The music reflected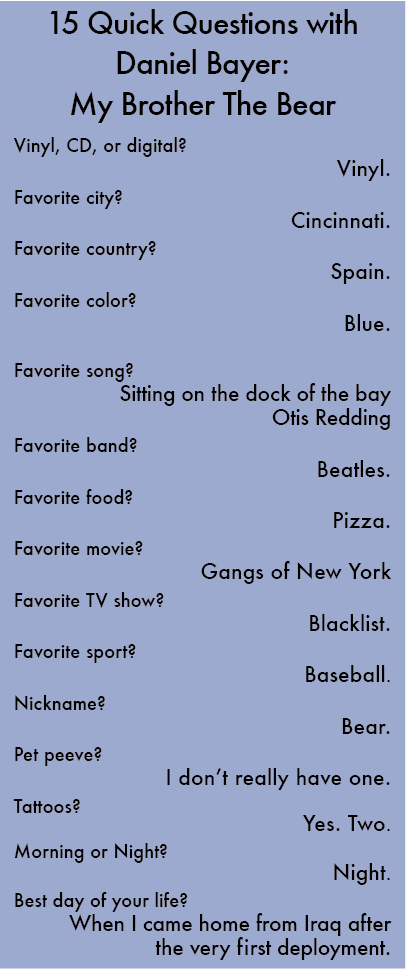 his folk musical style.
Bayer previously played at Black Sheep in November and said he enjoyed being able to play there again.
"It's a little more intimate so you can kind of, you know, interact with people that are listening," Bayer said.
This is one of many shows Bayer will play this year, traveling next to the West Coast and then making his way back to the area for a third time.
"I try to do around 200 to 250, so I'm always kind of busy and always on the road," Bayer said. "I prefer to be on the road and playing music."
Ian Thornton, manager at Black Sheep, originally booked Bayer after meeting him in Cincinnati.
"I met him while I was in Cincinnati and became a fan," Thornton said. "So I wanted to bring him to Huntington. He's a solid songwriter with a good voice, so I definitely wanted to bring him back for a second go around."
Being on the road the majority of the year, Bayer's shows range anywhere from a small opening act to a full set.
"I do any where from a 45-minute opening set to a long night, which would be about 3 hours," Bayer said. "I try to keep it all original but I'll throw in a cover or two every once in awhile."
A singer/songwriter, Bayer constantly writes music, drawing inspiration from the world around him. The first song he ever wrote was called "Tangerine Skies" about the Chesapeake Bay. Bayer said the most memorable song he has ever written is off of his new EP.
"I really like a new song that I just wrote off of the new EP it's called 'Two Brothers,' and it's a story about family and the limits that you'll go for your family and your friends," Bayer said. "So that's probably my favorite right now."
Like many young singer/songwriters Bayer looks to the songwriting legends, and as he calls them, "finger pickers" for musical inspiration.
"I love Dave Von Ronk and Bob Dylan, Pete Seegar, Doc Watson, and all the old finger pickers and song writers," Bayer said. "They are kind of what I grew up with. The John Denver type music and contemporaries that I'm really, really enjoying right now are The Harmed Brothers and Buffalo Wabs & The Price Hill Hustle. They're trying to bring the type of music into the limelight that's more approachable than your regular pop or rock music."
Bayer will return in late March to do a third show in Huntington.
Kelsie Lively can be contacted at [email protected]
Leave a Comment
Your donation will help continue the work of independent student journalism at Marshall University. If you benefit from The Parthenon's free content, please consider making a donation.