Fraternity responds to criticisms over 'homeless'-themed party, university officials to discuss sanctions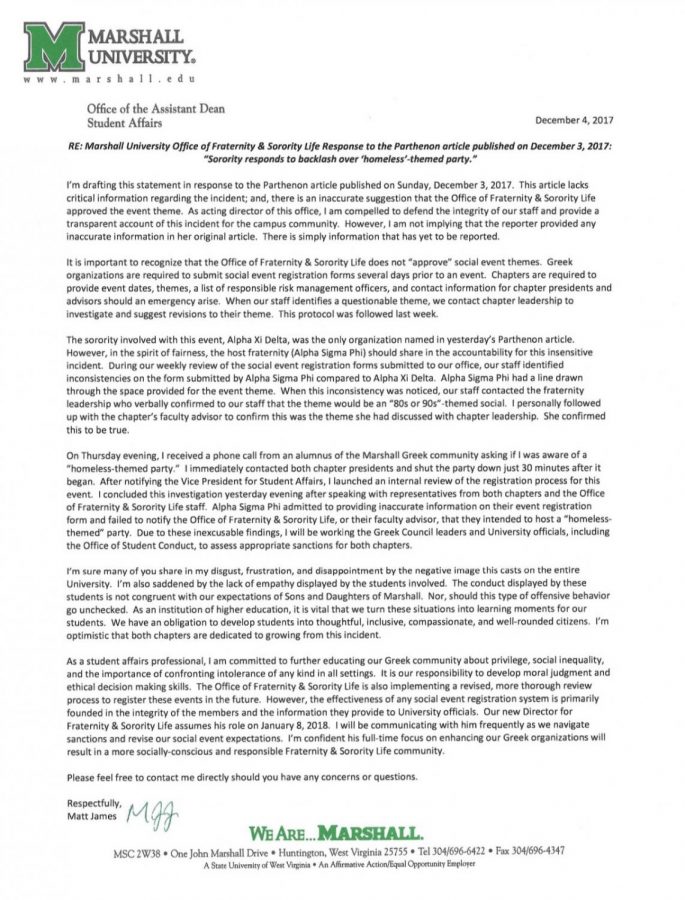 Chapter officials from Alpha Sigma Phi released a statement Monday explaining that the sorority, Alpha Xi Delta, did not act alone in throwing a party where members dressed up as though they were homeless and held up cardboard signs with various sayings.
"The Beta Delta chapter of Alpha Sigma Phi would like to truly and sincerely apologize for the insensitivity displayed by hosting a social with a 'hobo' theme," James Prentice, the president of Alpha Sigma Phi and a sophomore business administration student, said in the release on behalf of the chapter. "We, as a brotherhood, understand how insensitive it was of us to have a party themed around those who are misfortunate enough to not have a home. We accept blame and responsibility for our actions and will take those necessary precautions when planning socials from here on out."
Alpha Sigma Phi, whose philanthropy involves working with and helping homeless veterans, created and participated in the social in conjunction with Alpha Xi Delta at its fraternity house Thursday at 9 p.m., where people dressed in flannels and dirtied their faces in an effort to match the aforementioned theme.
As is typical with these Greek events, both organizations involved had to fill out a registration form that was turned in to the office of Fraternity and Sorority Life beforehand so that they can be forwarded to MUPD. These forms detail when the party began and was to end, which individuals would remain sober in order to monitor the party and any planned themes, in case of an emergency.
"These forms are given to me to check through, and then I pass them on to Matt James," Thomas Canterbury, the Interfraternity Council president and senior business administration student, said. "When I was taking both of their forms, I noted that Alpha Xi Delta's form had 'hobo' listed as the theme while Alpha Sigma Phi had a line drawn through the section for theme. At first, I thought Alpha Xi Delta had to be joking about this 'hobo' theme, so I brought it to Matt's attention, and he took it from there."
When the forms were passed on to Matt James, assistant dean of Student Affairs and interim director of Fraternity and Sorority Life, the discrepancy in the themes was seen. James contacted leadership within Alpha Sigma Phi, as the party was going to occur at the fraternity house, and they assumed responsibility for the event.
"(This leadership) verbally confirmed to our staff that the theme would be an '80s or '90s-themed social," James said in a statement released to The Parthenon. "I personally followed up with the chapter's faculty adviser to confirm this was the theme she had discussed with chapter leadership. She confirmed this to be true. When I was made aware that this party was taking place, I had the event shut down within a half hour, telling them how disgusted I was that they would host such an event."
James, who was alerted by an alumnus of Marshall's Greek community that the party was taking place under a theme that had not been detailed to him, explained that the fraternity's dishonesty and misleading conduct was disheartening and showed just how far the university needs to work in combating these insensitive behaviors.
"As a student affairs professional, I am committed to further educating our Greek community about privilege, social inequality and the importance of confronting intolerance of any kind in all settings," James said in the statement . "It is our responsibility to develop moral judgment and ethical decision-making skills. I hope that they see the severity of their actions; because they're adults, I can't make them do something. Only they can understand their mistakes and consciously not make it again."
James and other officials in the office of Fraternity and Sorority Life, as well as both fraternity and sorority presidents, will be meeting this week to discuss sanctions that will be placed on both chapters involved.
Breanna Francis can be contacted at [email protected]
View Comments (3)
Your donation will help continue the work of independent student journalism at Marshall University. If you benefit from The Parthenon's free content, please consider making a donation.