47th Memorial Fountain Ceremony to feature grandson of two lost in plane crash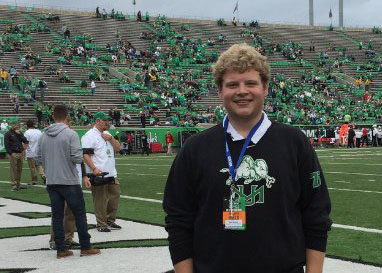 The plane crash that took place Nov. 14, 1970 and killed 75 people has shaped the manner in which Marshall University has grown as a school and a community. Today, Marshall looks to honor those lost once again with a special keynote speaker, Fisher Cross, the grandson of two of the victims of that fateful crash, at this year's fountain ceremony at noon.
Now a student at Marshall, Cross has grown up with the university, explaining that his entire life has centered around this community, this school and this football stadium.
"At first, I was extremely nervous when my aunt asked me to do this," Cross, a senior sports management student, said. "I thought 'Why me? My mom or aunt would do so much better.' I sat down and thought about it and knew that this school has been a huge part of my life, and I wanted to do it justice. I want to make my family proud, and to be sure that not only do I think that I did my grandparents and this school justice with my speech, but that people walk away believing that I was the right choice for this incredible honor."
Cross said that though he never met his grandparents, his family kept their spirit alive, and, in preparing for this speech, he asked his mother and aunt as many questions as he could so as to properly carry on their legacy.
"It's a bit complicated," Cross said. "I never knew them, which made this hard and not, all at the same time. Of course, I did have to ask my family questions, and I could see that pain in their eyes, how very real it was. But at the same time, I felt as though I knew a lot already. I felt the power and love in that stadium, that same love of this school that my grandparents had their entire lives. Any chance I get, I come to this stadium and take it in. Most kids go to the library to study, but I come here. It's where I feel at home."
The choice to have an active student and descendant of one of the crash victims was a new decision the ceremony committee thought would give new life and meaning to the famous fountain ceremony.
"We knew we wanted to give a voice to this generation," Emily Kinner, senior political science major and student body vice president, said. "We wanted to show that, although this tragedy has taken place, our school and students will continue to grow and honor those who lost their lives."
Breanna Francis can be contacted at [email protected].
Leave a Comment
Your donation will help continue the work of independent student journalism at Marshall University. If you benefit from The Parthenon's free content, please consider making a donation.