Footsteps toward the future: Cooley reflects on five decades of change at Marshall University
Caroline Kimbro, Reporter
November 6, 2017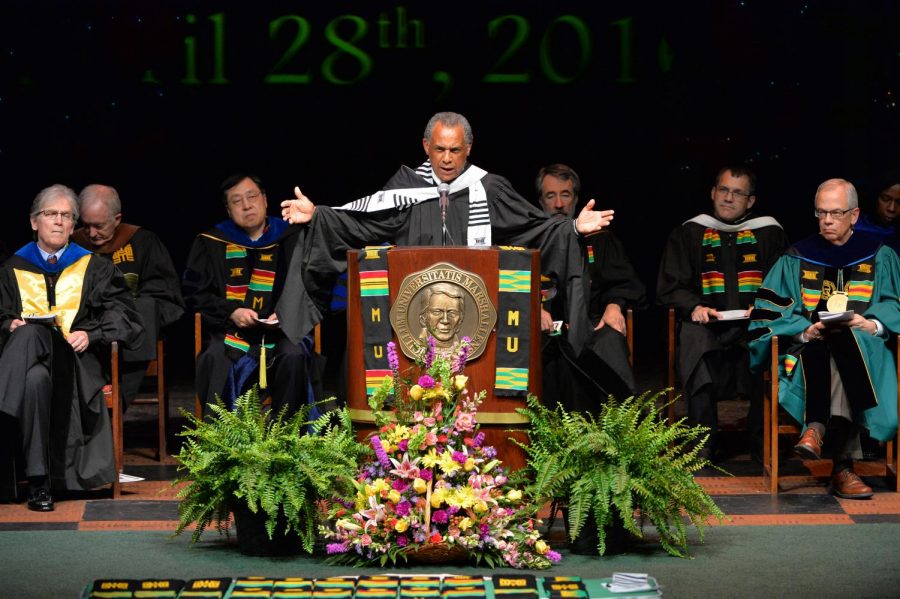 In the fall of 1966, Maurice Cooley was adjusting to college life just like every other freshman, making new friends and trudging to classes. However, he faced more obstacles than the average student: Cooley was also adapting to life as one of only 35 African American students attending Marshall University.
"I've gone through the time when a large number of white students at Marshall would prefer that we not come to their school – that was typical on a normal day," Cooley said.
Decades later, Cooley now leads, advises and mentors minority students at Marshall as the associate vice president of Intercultural Affairs. While Marshall is not the same university it was during his undergraduate experience in the civil rights era, Cooley said he has seen society once again begin putting its foot down to progress over the past years.
"The same feet we used to hear in the '60s, some of the same footsteps and some of the same voices, some of the same expressions we used to hear during the civil rights and Jim Crow period," Cooley said. "People have the freedom now to call you a bad name and not suffer any bitter consequences. We have leaders in our society who do that."
These re-emerging footsteps and voices don't drive Cooley to give up his charge to teach students how to contribute to a global society, but do present new challenges in the form of animosity and closed-mindedness. However, Cooley said he sees this period – and the trials laced throughout American history – as situations which define greater triumphs in the future.
"Sometimes these turbulent experiences are necessary, because I think they serve an indirect role to inspire greater change during the next episode," Cooley said. "In our personal lives and in our social lives, if we don't go through rough periods of turbulence and turmoil that cause a lot of pain and trouble, then you're not dedicated to change."
Cooley said he thinks individuals and communities work hard to rid themselves of this pain, which stimulates the movement and change that doesn't occur during seasons of comfortability.
Marshall students and many others are laboring to push back this pain, and Cooley is working alongside them. He attributes the success of the Intercultural Affairs Office and the programs it oversees to the inclusion of wisdom from students and group planning. He said he believes Marshall students are just as bright and creative as he is, so collective brainstorming provides an opportunity for many sharp minds to contribute to a thought.
"Much of the work that we do turns out to be highly successful because everybody's tuned into it," Cooley said. "Rarely do I ever come up with an idea that I just thought of on my own and have people to do it, because I've learned before that generally leads to it not being so successful."
Initiating and facilitating these types of discussions is one of Cooley's favorite aspects of his position. Marshall students will be on campus for four or five years with the unique opportunity to work, socialize and learn with people from seventy different countries of various ethnicities, religious backgrounds and linguistic experiences.
Cooley said he views campus as the greatest convergence of ideologies and backgrounds that many students will ever have the opportunity to take part in. He said his role is to create circles in which students can learn through conversation and touch others' lives and to alter students' thinking in a positive way through these interactions.
"See, the whole work is that you must be prepared as a Marshall University graduate to do good work in society," Cooley said. "We do not think that you can contribute to good work and leadership in society if you have narrow, prejudiced, hateful views."
Cooley may primarily assist minority and multi-ethnic students directly, but his work benefits the entire student body. Cooley said he focuses on the academic and personal development of minority students within the context of the world and in relation to others.
Before Marshall administrators contacted him in 2003 about returning to Marshall, Cooley arrived to work every morning to meet with mental health patients. As a minority student himself and a psychotherapist for 26 years, Cooley has unique qualifications to advise students in processing and planning for the future.
"Some people who have grown up with a lot think their struggles are a lot, but they're not, compared to people who have had little throughout most of their living days," Cooley said. "It's not even the same. So, if you can somehow have the time and opportunity to help students solve difficulties so that their lives can move on to be just as successful as anyone else, then that's a good thing. It really is."
Cooley said he has witnessed Marshall administrators and faculty resourcefully assist students through every obstacle and troubling situation they are dealing with. He said he often has the opportunity to become involved with students "who are just hanging on by a thread."
"It makes better sense that if I embrace you today, we can walk together to solve a problem, than if you and I are arguing we cannot solve any problems," Cooley said.
Caroline Kimbro can be contacted at [email protected]