Editorial: Trump sees consequences of 'Trump Tapes'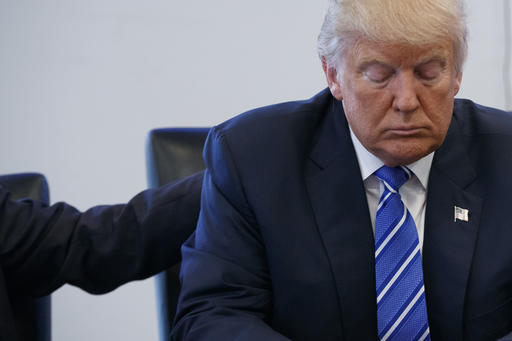 With the release of The Washington Post's "Trump Tapes," in which Republican nominee Donald J. Trump degrades women and makes "lewd" comments about making unwanted advances on a married female acquaintance, it is no longer a question that Donald Trump is every progressive's nightmare.
Over the weekend, Trump not only hemorrhaged the remaining pieces of his dignity (which were scarce to begin with), but also the partisan support of his party, with prominent Republicans disavowing him throughout the weekend.
Trump then proceeded to bring women who have accused former President Bill Clinton of sexual misconduct to Sunday's debate as a publicity stunt. If he really cared about sexual assault victims like he has recently claimed in the past few days, he would have brought this up in his earlier campaigning. Trump does not understand that Hillary Clinton is not responsible for her husband's actions, and her ability to run a country does not rest upon them.
But the sole purpose of Trump's stunt was to humiliate his opponent hours before the debate, an act that he continued throughout the debate as he angrily lurked behind her, interrupted her with zingers that have no place in a presidential debate, but probably fared well with Trump's base, and defied the foundation of democracy when he threatened to jail her for acts that she has legally been absolved of committing.
Trump's performance, while better than his stilted, meandering act at the first debate, proved less than favorable to prominent Republicans. Monday morning, Speaker of the House Paul Ryan voiced that he will no longer waste energy defending Trump, deciding instead to focus on the House and Senate races so that the Republicans may have some leverage when Clinton takes office in January. It appears that negative actions against women do have consequences, even when said consequences come from a party that has spent decades fighting reproductive rights and a woman's right to equal pay for equal work.
How can we progress as a nation when half of our population is openly degraded at the peak of our potential executive branch?
Trump insinuates that women are too weak and lack "stamina" to hold positions of leadership, and he has a history of openly degrading the women in his life. Degrading women is not a new thing for Trump. This entire campaign, women have talked about how he negatively talks to them and there is video from years ago in previous interviews of him talking about how a women becoming pregnant is "an inconvenience for a business."
Most of us have been on the receiving end of unwanted advances from customers, relatives or friends. It wasn't okay then, and it isn't okay now. Sexual assault occurs too frequently with little repercussions for the offenders: see Brock Turner.
We asked members of the Marshall community (students and alumni) to respond Kelly Oxford-style to our "safe space" forum, where they shared their anonymous accounts with sexual assault, both verbal and physical. Within an hour, 20 students digitally stepped forward.
Women have the fear of going out alone at night and even going to the bathroom alone at a bar because society makes us feel it is our fault that we get sexual comments shouted at us and men feel as if they can just grab parts of our bodies. When females get the courage to step up and tell someone that they have been sexually harassed/assaulted people will say "well what were you wearing," "why did you go out alone?"
Women should not have to fear going out alone or going to the restroom alone. Women should not have to fear that their next president won't value them as human beings, etc.
Hillary Clinton isn't the only woman that Trump has attempted to vilify, degrade and demean. Former Miss Universe Alicia Machado got a United States citizenship so she could vote against Trump after he publicly criticized her for gaining weight during her time as Miss Universe and made her work out in front of members of the media. A non-US citizen got citizenship so she could vote against Trump. He called her Miss Piggy and Miss Housekeeping. We cannot have this man as our next president.
Leave a Comment
Your donation will help continue the work of independent student journalism at Marshall University. If you benefit from The Parthenon's free content, please consider making a donation.