Editorial: Justice served in Terrence Crutcher murder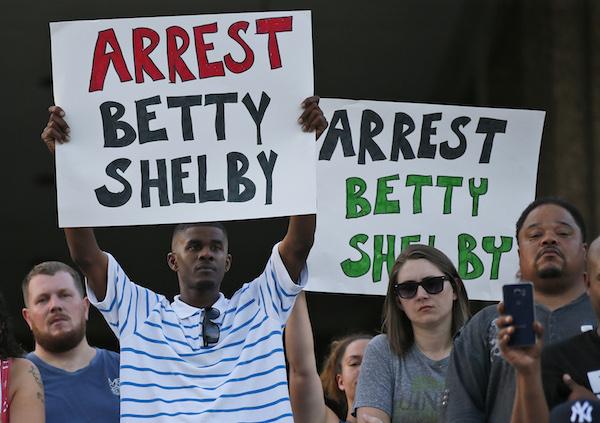 With every shooting of an unarmed black man, trust in law enforcement's ability to serve and protect their constituents dwindles.
On Sept. 16, 40-year-old Ter­rence Crutcher was fatally shot after his vehicle stalled on a high­way in Tulsa, Oklahoma. Days after Crutcher was slain, the Tulsa Police Department re­leased several videos from the encounter.
In both aerial and dash camera footage, Crutcher, can be seen walking in a straight line with his arms raised, obeying police orders. From the helicopter, two pilots engage in dialogue plagued with nega­tive remarks.
"That looks like a bad dude. Looks like he could be on something," one pi­lot says. Mere seconds before Crutcher was tased, a second pilot—and hus­band of the officer who fires the bullet— can be heard saying, "time for a taser."
In the videos, five officers arrive on the scene on their way to an unrelated call, guns out, immediately surround­ing Crutcher. He complied with orders and raised his hands in the air. Unfor­tunately, in America, compliance isn't enough.
While incapacitated by the taser, Crutcher can be seen struggling to recover, reaching slightly upward in the direction of his vehicle. Seconds later, Crutcher is struck with a bullet.
"SHOTS FIRED," screams a frantic female, later identified as the shooter, Officer Betty Shelby, on the video. Crutcher's arm falls limp onto the ground; his body lays motionless in the center of the highway.
All five officers waited two min­utes to approach the dying man. Even if they felt "threatened" by Crutcher, leaving him to die without attempting to save him was unnecessarily cruel. Why wasn't his life worth preserving?
After the shooting, Officer Betty Shelby, who fired at the defenseless father of two, was placed on admin­istrative leave with pay. By Thursday, she was charged with first-degree manslaughter in Crutcher's death.
Crutcher's twin, Tiffany Crutcher, delivered an emo­tional address shortly after his death at a press con­ference: "That big bad dude was a fa­ther. That big bad dude was a son. That big bad dude was enrolled at Tulsa Community College, just wanting to make us proud. That big bad dude loved God. That big bad dude was at church sing­ing with his flaws every week. That big bad dude, that's who he was."
Terrence Crutch­er's life mattered.
While we may not be able to prevent the trigger from be­ing pulled, we can make strides to shine a light on local institutional bias and law enforcement overreach:
Participate in civilian supervision of your community's police depart­ment. Submit complaints when you feel a situation has been mishandled and encourage public forums in col­laboration with local police officers. Educate yourself on their policies regarding searches and be aware of your rights—both constitutional and regional.
Put an end to racial profiling at home and abroad. If a friend, rela­tive or acquaintance makes a racially or ethnically degrading comment, call them out. In the words of President John F. Kennedy in his inaugural ad­dress: "Divided, there is little we can do for we dare not meet a powerful challenge at odds and split asunder."
Leave a Comment
Your donation will help continue the work of independent student journalism at Marshall University. If you benefit from The Parthenon's free content, please consider making a donation.