Women's soccer falls to Western Kentucky Hilltoppers

The Marshall University Thundering Herd women's soccer team fell against the Western Kentucky University Hilltoppers Thursday. This defeat makes the Thundering Herd 2-3-2 overall and, more importantly, 0-1 in conference play.
"I thought we defended for too much of the game, and we bent until we broke," Marshall University coach Kevin Long said.
While Long showed some disappointment in the loss, he continued to be positive as he pointed out that this group is still very young and learning to play together. He said communication is vastly improving for the Thundering Herd defense.
The first half of the game was even for possession, with a slight edge to the Thundering Herd. With the majority of the game played in the middle third of the field, opportunities were at a premium.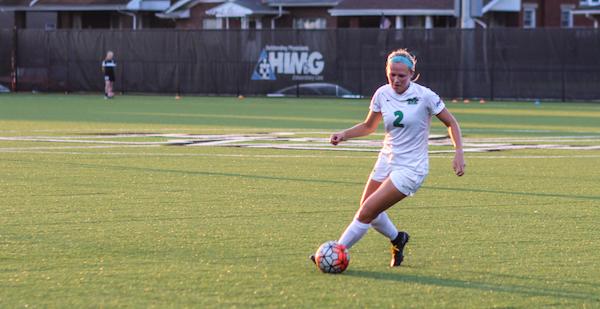 The only real stand-outs were the defensive backlines at stopping attacks. McKenna Klodnick and Metz Gonzalez were on their best form from the start of the contest, as the only Hilltopper shot on goal came from outside the penalty area and was easily handled by Thundering Herd goalkeeper Emily Moreland.
On the other end of the field, the best opportunity to score came by an advantage call. Klodnick made a run forward, outrunning an opponent to an errant pass and getting fouled, but the referee allowed play to continue. Klodnick found a sprinting Sidney Arnold, who dribbled to the end line, crossing it into the 6-yard box. Shontelle Smith was making a run to be on the end of the cross, but her attempt at goal was quickly smothered by Hilltopper goal keeper Allison Leone.
The second half turned in favor of Western Kentucky as they maintained possession of the ball. But, for extended periods of the game, the Thundering Herd defense could not be phased.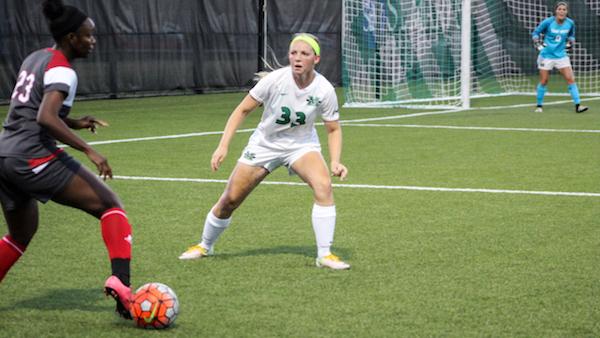 The game's lone goal came from a strike from Western Kentucky forward Chandler Backes as she notched her eighth goal of the season. A scramble in the Marshall defensive third of the field resulted in the ball being deflected forward by Sarah Gorham to a sprinting Backes. Backes took the ball up the left side and beat a charging Emily Moreland, who was out to contest the shot, slipping by into the right side of the net with only eight minutes left in the game.
"We felt like we came out and played very jittery in the first half," Western Kentucky University coach Jason Neidell said. "At half time we talked about settling down, trying to play with a bit more courage and effort."
The Thundering Herd women next take the field in Williamsburg, Virginia, playing against the College of William & Mary Sunday, Sept. 18. The next home game is scheduled to be played Friday, Oct. 7 with kickoff at 5 p.m.
Joseph Ashley can be reached at [email protected] and @Joseph_AshleyMU on Twitter.