Miljovic named Man of Marshall
Eleven men competed in formal wear, swimwear, talent and an onstage question.
Hang on for a minute...we're trying to find some more stories you might like.
More stories from Sofie Wachtmeister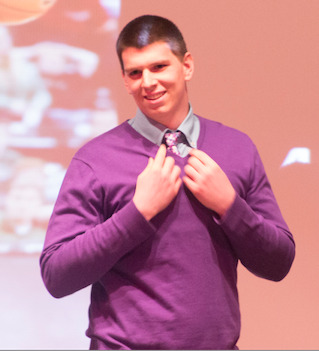 The Marshall University Student Athletic Advisory Committee (SAAC) presented the inaugural Man of Marshall pageant competition Thursday in the Don Morris Room.
Eleven men competed in formal wear, swimwear, talent and an onstage question.
Entry cost a dollar at the door. All money raised was donated to the A. D. Lewis Community Center in Huntington, which serves people with low to poverty level incomes as a home away from home.
Maria Hill, director of the center, said there is a dire need for money.
"We get grants during the school year for food, but during the summer we don't receive any," Hill said. "Some of these kids only eat at the center because they don't have the opportunity to eat at home."
After the formal and swimwear competitions, contestants treated the audience to juggling, apple carving, poetry and speedos.
Buckets representing each contestant were available for donations. Every $5 counted as a vote.
Marshall basketball player Milan Miljovic took home the title of Man of Marshall after the SAAC presented the A. D. Lewis Community Center a check for $1,052.
"It's the first time that they picked a Man of Marshall," Miljovic said. "I really appreciate everyone here donating their time and money. It's all going to kids who need it."
Woody Taylor, staff representative for SAAC, said the student group wants to start getting more involved with Marshall and surrounding communities.
"This group of student athletes decided they wanted to do something different," Taylor said. "The group is serious about making a difference in their community and they did just that."
The SAAC set a beginning fundraising goal of $500 and was able to double the amount.
"This money will cover food for the entire summer," Hill said. "I couldn't be happier."
Sofie Wachtmeister can be contacted at [email protected]