Herd men's soccer dominant in home win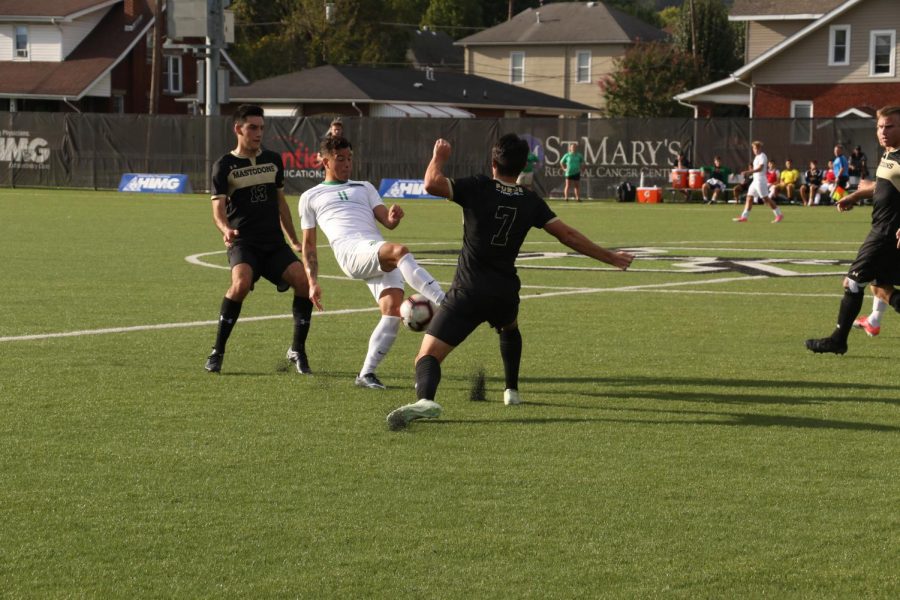 Marshall University men's soccer rolled over Purdue Fort Wayne 3-0 Tuesday at Hoops Family Field.
The Herd moved to a win-loss record 4-5-2 (1-1-1 C-USA), while the Mastodons fell to a win-loss record of 6-6-1.
"That is the best 20 minutes we have had," Marshall head coach Chris Grassie said. "We killed them in the first 20 minutes with pressure. We moved the ball quickly and with purpose."
The Herd jumped out to a 1-0 lead with a header off a deep pass from the right of the box by sophomore Jamil Roberts in the 17th minute. Freshman defender Jan-Erik Leinhos was credited with the assist.
Marshall continued to pull away from the Mastodans on an unassisted goal by sophomore forward JP Rylah. His first shot was deflected by the goalkeeper and he put in the net off a rebound from the left side. The goal marked Rylah's third of the season.
Sophomore midfielder Pedro Dolabella extended the lead to 3-0, just six seconds before halftime with a header to the left deep. It was Dolabella's first goal of the season. Leinhos was credited with an assist off a pass from the right side of the field.
"Our defense has been very strong with Paulo Pita in the back and it is nice to have Chris Taibi back," Grassie said. "He is such a huge presence for us and he rarely ever gets beat. He is another good defender to put in there."
Purdue Fort Wayne had five shots on goal but all were deflected by redshirt junior goalkeeper Paulo Pita.
"It is a team thing," Grassie said. "You cannot just have a backfield and a goal keeper, you have to have a whole team.
Purdue Fort Wayne's freshman goalie Tork Erik Larsen had seven saves.
Marshall will travel to Lexington, Kentucky Saturday at 7 p.m. against the University of Kentucky.
"Kentucky is a team that doesn't make many mistakes" Grassie said. "I think that we can play with them, we can possess the ball and create chances. We just have to make sure we our focused for 90 minutes. If we can focus we can come away with the victory."
Sydney Shelton can be contacted at [email protected]