Gender neutral bathrooms aim to create safe space for Marshall residents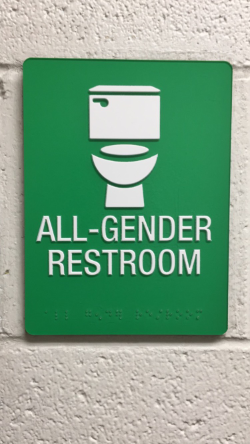 Advertisement
Hang on for a minute...we're trying to find some more stories you might like.
Traditionally, each floor of Twin Towers West serves as a home for students during the school year with female students residing in one area and male students on the other, but starting last year, the building's sixth floor began to offer a new take on the standard living style by offering Marshall University's first housing option with gender neutral bathrooms.
Gender neutral bathrooms aim to create a safe space for Marshall residents.
"Everyone should feel safe on every floor," Tracey Eggleston, assistant director of Housing and Residence Life, said.
Eggleston said the idea behind the floor arose after staff members saw a lack of housing resources for minority students.
"Our campus is known as LGBTQ friendly, and our department has always been one who supported every individual who lived in our halls" Eggleston said. "But we also wanted to provide the extra support to students who may need it."
While the floor is not specifically intended for the LGBTQ community, Eggleston said it is aimed to provide students with gender inclusive bathroom facilities by having lockable doors on the shower stalls.
Eggleston said although it is a simple change, improvement to the floor has made a huge difference, and the department is hoping to carry the changes throughout the building.
"[Housing] simply hasn't had the money," Eggleston said. "It's rather expensive, but our goal is to eventually give every floor the same resources."
In addition to the floor's facilities, this fall, Housing and Residence Life enlisted Gabe Brown, a junior biological sciences major, to be the resident advisor.
"I really want to be role model for LGBTQ students and residents on my floor," Brown said. "I want to be a voice for them."
Despite this being his first year as an RA, Brown said he is very excited to be working on the floor and hopes he can inspire more change on campus.
"I feel like I've become more confident in my leadership abilities," Brown said.
In order to usher in more inclusion on campus, Brown said students need more exposure to the ideas behind safe spaces.
"Some students don't understand the need for them," Brown said. "All of the confusion comes from a lack of knowledge."
While Eggleston said more changes are needed before many of Marshall's spaces are gender inclusive, she is excited to meet the needs of students.
"We want to make sure that everyone feels safe, comfortable and happy," Eggleston said. "That is our number one goal."
Joelle Gates can be contacted at [email protected]