Herd seeks second win over Akron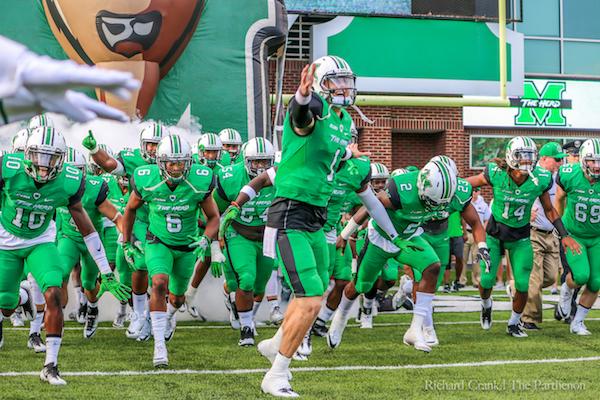 A week after defeating the Morgan State Bears 62-0, Marshall looks to start their first winning streak of the season versus the Akron Zips.
The Zips come to the Joan C. Edwards Stadium with a 1-1 record after a 54-10 loss to Wisconsin last week. This will be the 13th time that Marshall and Akron have met, with Marshall leading the series 8-4.
The last time these two teams met was 2014, with Marshall coming away with a 31-point victory. The Zips are coming off a successful 2015 campaign that saw them win a bowl game and compete for the MAC championship. They are a much different team with 15 new starters on the depth chart.
Doc Holliday knows the Zips are not a team to look over, especially with Terry Bowden coaching on the opposite sideline.
"I have great respect for Terry and what he has done for that program," Holliday said. "They were one of the worst programs in football and he has them winning bowl games. They will be well coached, they will tackle well, they will execute the fundamentals. Wherever Terry goes, he finds success."
Holliday is much more worried about defensive lineman Jamal Marcus on the field.
"He is fun to watch play against other people," Holliday said. "I don't know how fun it will be to see him against us. You always need to know where he is on the field, and it is going to be up to our offensive line to handle him effectively."
Marcus is a transfer from Ohio State University, who was named 3rd team All-MAC and racked up 30 tackles, 5.5 sacks and 10 hurries. He also contributed to the Akron defensive front, which ranked number 3 in the nation.
Marshall is coming off of a dominating shutout performance versus Morgan State that saw the offense gain over 500 total yards and the defense force four turnovers. The early blowout allowed Marshall to give their starters some rest, and young players some work, but starting quarterback Chase Litton also sees other advantages to the limited time the starters had on the field.
"It helps us out that Akron only has a half of tape to study on all our starters and we have two full games of them," Litton said. "We have a lot to improve on from our first game in every aspect. Every day this week Akron is going to be on our mind, every practice, Akron, every film session, Akron. We expect a lot from this Akron team, they are very disciplined and have a great coordinator. Their defensive ends really stand out on tape, they are animals and they like to pressure guys like me. We just have to game plan for their defense all week and execute when the time comes."
One of the guys that Litton will be relying on to keep him upright all game is offensive lineman Clint Van Horn, who will be going head to head with Jamal Marcus.
"Those ends are all conference types, Marcus is extremely fast and active with his rush," Van Horn said. "He is twitchy and plays well against the run, it is hard just to get your hands on him, overall he is just a dangerous player."
Van Horn said Akron also has Se'von Pittman, who they saw two years ago and has only gotten bigger and better since 2014.
"I have played a lot of great defensive ends, though," Van Horn said. "My freshmen year I was going up against Vinny Curry, who is probably the best I've ever seen. I'm not worried about Akron, but I respect them and know I need to bring my A game against them."
Marshall and Akron will meet at 12 p.m. this Saturday at the Joan C. Edwards Stadium.
Troy Alexander can be contacted at [email protected]