Catholic students take a chance on lent decision making
More stories from Nancy Peyton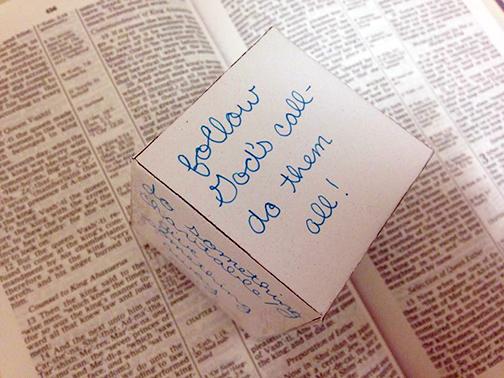 Students at the Catholic Newman Center on Marshall University's campus like to keep things interesting during the Lenten season.
The Chaplain Father Dean Borgmeyer encourages students to participate in what he calls the "Lenten Die Game." The game requires participants to roll a die each night to determine what they will be giving up for Lent the next day.
Students at the Catholic Newman Center create their dice from paper and write something on each side. Students are encouraged to devote one side to "answering God's call" by doing all of the things listed on their dice.
Campus minister Traci Ferguson said the game is perfect for people who want to take baby steps in their faith and observance of Lent.
"I tend to need to keep it very simple in my life," Ferguson said. "I try in all areas of my life to really take baby steps, so I think that for someone who is particularly overwhelmed when it comes to committing to any one thing for an entire 40 days, this game is kind of a fun and relaxed, mildly adventurous way to ease you into the practice of Lent."
Ferguson said it takes time to learn what exactly works for each individual person when it comes to picking things to assign on the dice.
"You kind of learn, especially after a few years, to kind of pace yourself because it can be a way to keep it really simple and nice," Ferguson said. "You can also go kind of in the opposite direction and put incredibly challenging things on the dice."
Ferguson said this game can be fun for people who observe any form of Christianity.
"Lent is such a beautiful season and you don't have to be Catholic to practice it," Ferguson said. "If you practice any Christian faith culminates into the life, the death and the resurrection of Jesus Christ, then I believe that Lent is a beautiful opportunity."
Junior international business major, Sydney Rollins said this is her first time observing Lent. Rollins said the game has been the perfect way for her to ease into celebrating the season.
"I like that this gives you the opportunity and potential to give up more than one thing," Rollins said. "There's that uncertainty. Every night you could roll something different, or you could roll all five of them. I thought it was a fun way to get involved with Lent and not just give up something typical."
Ferguson said this game helps to show students how beautiful and important Lent truly is.
"I would encourage anybody to be open-minded and willing to learn a little bit more about what can be a really overly faith-filled and prayerful journey toward Easter," Ferguson said.
Nancy Peyton can be contacted at [email protected]
Leave a Comment