Locally Produced Music Video Achieves YouTube Success
More stories from Nathan Thomas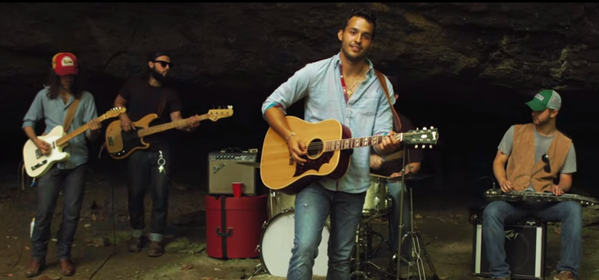 Country singer and Marshall University graduate student Pat Morgan's locally produced music video "Girls Like Jeeps" has amassed over 5,000 views on YouTube in just over a week.
"It's happened really quickly," Morgan said. "It's simmering off a bit from where most people locally have seen it so we'll have to figure out how to get it seen outside of where it is now."
The song was recorded and produced by Bud Carroll, whose work includes Huntington indie rock band, Ona and Morgantown based, Goodwolf, at Trackside Studios. Carroll also provided all instrumentation except for Morgan's vocals, acoustic guitar and bass.
"Most of the time when people hire you, they want to take shortcuts," Carroll said. "Patrick literally wanted to make it as good, fidelity, playing and production wise, as good as a hit song you'd hear on big country radio and he spent the time to do that. So I'm not surprised a lot of people like it."
The roots of the song's lyrics come from seeing multiple Jeeps during spring break in his last year of undergrad, Morgan said. "Over the next day, day and a half I got a rough version put together."
"
"You always work hard and try to do a good job but it's never at the expense of it not being fun.""
— Bud Carroll
The music video was produced by local filmmaking collective Brainwrap Productions, the group for the "Live at Trackside" series, as well as the short film Trace Around Your Heart.
"Patrick gave us a lot of videos to watch and study since we all hadn't seen any bro-country videos," Max Nolte of Brainwrap said. "I didn't know it was such a thing. Patrick sort-of scientifically figured out what made a good bro-country video and had a lot of incredible ideas we tried to execute."
"We looked at the ''Cruise" video, and a couple of others," Morgan said. "It seems like any bro-country song is about some kind of four-wheeled drive video and them some girl. I can say it's more than a business thing, I feel like I'm friends with all those people now."
"It's always fun," Carroll said of working with Brainwrap. "You always work hard and try to do a good job but it's never at the expense of it not being fun. And Max is always stepping up his game, trying to get better lenses and equipment. I feel a kindred spirit with them. They put the same quality and dedication into their outlet for media that I attempt to do."
Brainwrap Productions will be the center of a showcase at the West Side Factory on Wednesday, Sept. 23, as a part of the 2015 Huntington Music and Arts Festival.
After graduating, Morgan plans to pursue a career in songwriting in Nashville Tennessee. Morgan also plans to have more music videos in the future, including a lyric video in late October.
Nathan Thomas can be contacted at [email protected]
Leave a Comment
Your donation will help continue the work of independent student journalism at Marshall University. If you benefit from The Parthenon's free content, please consider making a donation.