Huntington Music and Arts Festival returns for seventh year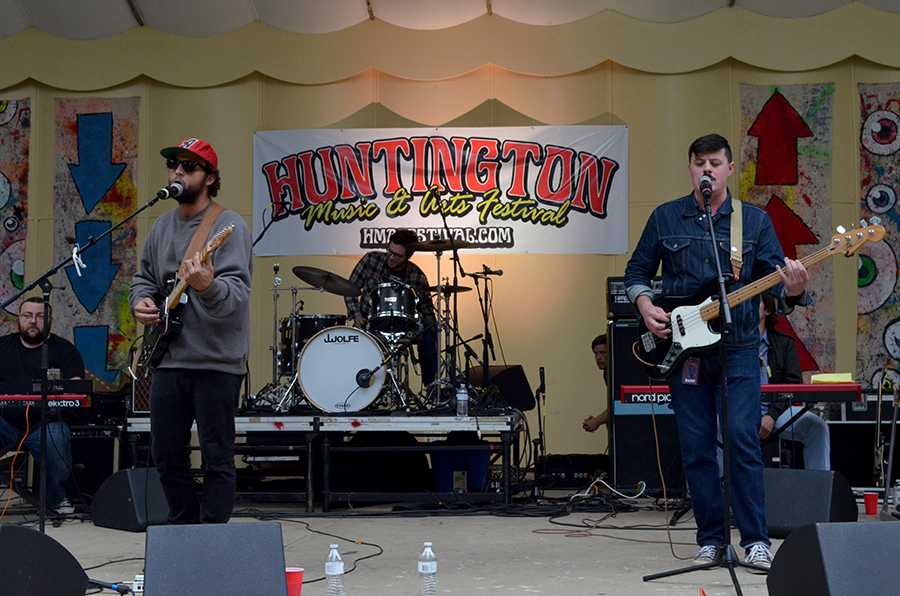 For the last seven years, the Huntington Music and Arts Festival has grown to become a showcase of not only the art and music of Huntington, but the entire Tri-State area.
The annual festival will take place at the Ritter Park Amphitheatre, Saturday, September 3, and acts will begin playing at 11 a.m. and continue throughout the day.
HMAF-creator Ian Thornton has lengthened the event into an entire week-long festival from its intial three-day span.
Each night will showcase the food, art, and music of the Tri-State area. This year the entire city of Huntington will help host the festival, with each event hosted at a different venue every night.
"The first few years we did it on a Saturday with, like an after party and stuff," Thornton said. "And then we slowly started adding more events, we added an event on Thursdays and Fridays. Last year culminated in to our biggest (year), at that time, we added our art event in on that Tuesday … So this year I said well screw it. If we're gonna do five days we might as well do seven."
Traditionally, headlining acts usually have been nationally-renowned acts from West Virginia, Ohio and Kentucky. This year the two headlining acts are Huntington locals Tyler Childers & The Food Stamps and Ona. Both have been performing at HMAF for the past few years, slowly moving up to the top of the ticket.
"Well I think it was time," Thornton said. "I've watched them grow, you know Ona's still a fairly young band. You know they're only about two and a half years old … They're just a great act and they write great songs, they have great presence, and everything just really gels with them you know. And seeing Tyler grow the past few years is an astounding thing, as he gets more popular everywhere. And just seeing him last year and the crowd, you know he has it, he just has it."
For the city of Huntington, this has become a way for local vendors, businesses, and artists to make their specialties known in the community. It has grown every year in size and attendance, and now has even been recognized by the Mayor of Huntington Steve Williams, who will be attending Monday night's event where he will dedicate the week as "HMAF Week."
"It's exciting to see how this year they are branching out, with off-site events leading up to the big concert," said Tyson Compton, President of the Cabell-Huntington Convention and Visitors Bureau. "The smaller events help gain attention and get people excited for the big events as well."
With the rate the festival has grown, Thornton said he wants to stick to the roots of its founding and showcase beloved local acts . He said the Ritter Park Amphitheatre is the perfect venue for what they are trying to do.
"You know obviously we do want to grow to a point where we have to maybe change venues, but I'll do it kicking and screaming."
The Festival  begins Monday night at 6 p.m. with HMAF Appalachi, which will take place at The Wild Ramp in West Huntington's Old Central City.
Students interested in getting tickets for the main event Saturday may pick them up at the Campus Activity Board office at the Student Center. The first 50 students will get free tickets.
Schedule of Events
HMAF Pre-Party at Pullman Square
Friday, September 2 @ 7 p.m. – 10 p.m.
HMAF Open Mic at The Lantern
Friday, September 2 @ 10:30 p.m. – Saturday, September 3 @ 1:00 a.m.
Huntington Music & Arts Festival
Saturday, September 3 @ 11 a.m.- 10 p.m.
The Ritter Park Amphitheatre
HMAF After- Party
Saturday, September 3 @ 10:30 p.m. – Sunday, September 4 @ 2:30 a.m.
HMAF Dinner with Travelin' Appalachians Revue
Sunday, September 4 @ 5 p.m.-8p.m.
Black Sheep Burrito & Brews
Tom Jenkins can be contacted at [email protected].
Leave a Comment
Your donation will help continue the work of independent student journalism at Marshall University. If you benefit from The Parthenon's free content, please consider making a donation.