Survivors Unite, Take Back the Night
More stories from Taylor Poling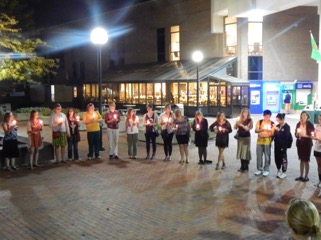 Take Back the Night rocked Marshall University's campus last night. Public speakers, rallying and a candlelight vigil comprised the events for the night.
Take Back the Night brought attention to the issue of domestic violence and sexual assault. The annual event started off with a variety of speakers. Tears were shed by both speakers and community members as personal survival stories and poems were shared with the audience.
Campus advocate for the CONTACT Rape Crisis Center, Kylee Mcmullen, said "the reason why I do it is because I can take pride in knowing that I can be there for that victim, I can be their advocate and I can essentially hold their hand through the process. They don't have to be alone and I can be that person of support, even if they don't have anyone else who believes them, I can be that person for them."
Associate Professor for the Department of Psychology, Paige Muellerleile, ended the speaker portion of the night. Muellerleile explained that the issue of rape and domestic violence is a men's issue, not a women's issue.
"Rape culture is reflected in every part of our lives wherever there is sexism that allows people to feel entitled to our bodies," Muellerleile said.
Muellerleile provided an example of how little girls have to worry about dress codes where boys have more freedom in their clothing choices. Muellerleile explained how that was an example of rape culture.
After speakers finished, the rally began. Signs were handed out to the participants. Chants such as "survivors unite, take back the night" and "sexist, racist, anti-gay, don't you take our night away" echoed around campus as participants marched from the Memorial Student Center to the Freshman dorms.
Cars honked as the crowd of marchers made their way along Fifth Avenue back to the Memorial Student Center. A passerby yelled, "That's the best shit I've seen all night!"
The event ended with a candlelight vigil. Each participant lit a candle and elaborated on why they came to the event. Once every candle was lit, participants blew out their candles to send prayers and thoughts to the victims and survivors of sexual assault and domestic violence.
Representatives from Branches Domestic Violence Shelter and CONTACT Rape Crisis Center were there to provide help and assistance.
Taylor Poling can be contacted by [email protected].
Leave a Comment
Your donation will help continue the work of independent student journalism at Marshall University. If you benefit from The Parthenon's free content, please consider making a donation.