'Create Narratives,' Says Jessica Huff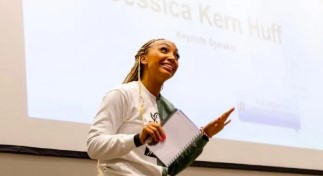 Jessica Huff says she believes every day is an opportunity to serve others. Since coming to Huntington in 2021 when her husband, Charles Huff, became head coach of Marshall's football team, she has tested that statement by becoming active in the community.
Saying she believes in the potential of everyone willing to work to reach their goals, Huff encourages people to "create their own narrative." Through her Jessica Kern Foundation, she seeks to help people achieve their dreams and open opportunities by using her life experience as a model.
Before she was a coach, businesswoman and public speaker, Huff grew up in a blue-collar family in Milwaukee. She credits her family for her work ethic, describing her parents as hard-working people who defied social norms for the time.
"My parents were doing things that people just didn't do—to be an interracial couple was taboo—so we kind of lived our lives knowing it was against the grain, and that was okay," Huff said.
This inspired an open mindedness in her; she said, "My biggest takeaway from my upbringing would have to be that an educated woman is a free woman, and an open mind is a free mind."
Huff has always lived an unconventional life, she said, adding that "It's challenging and uncomfortable but is necessary. If we want something different, we have to be different."
When others asked her how she felt about the move to Appalachia, she noted she had experienced many cultures throughout her career. Such exposure makes a well-rounded individual, she said.
"It doesn't matter what side of the fence you stand on. Having an open mind gives you a whole different perspective on the life that you want to live," Huff said.
Like her husband, she has had an athletic career that began at Penn State on the track and field team.
As an undergrad, she studied journalism before pursuing professional basketball and playing internationally in Australia, Germany, Switzerland, Romania and Poland.
Huff continued her athletics by coaching women's basketball at Lincoln University, Mississippi Valley State University and Tennessee State University. She was also assistant coach at Arkansas-Pine Bluff University and Wisconsin-Milwaukee University.
"To be in coaching, it almost has to be your calling in life," she said. "It's a job with high stress and oftentimes little
gratification. We coaches are outcome driven, and losses measure our success even though that isn't always the case."
Through coaching, Huff said she developed a sense of empathy that she didn't have in her early seasons. She would apply these kinds of skills for motherhood and her marriage.
"When I stopped making it about me and instead how I could serve others, things became much easier," Huff said. "Pour yourself into others,
and it'll come full circle."
Huff said her final season coaching at the collegiate level was a transformative period that prepared her for her life today.
"My last season at Tennessee State was the hardest, most gut wrenching, faith testing but joyous time of my life," Huff said.
Calling Marshall a new chapter, she said, "I knew God was shifting me to somewhere else."
"My top priorities are Christ, family and staying positive," Huff went on to say. "Three to five things will probably go wrong before you even wake up, so it's important to remain positive and keep moving forward."